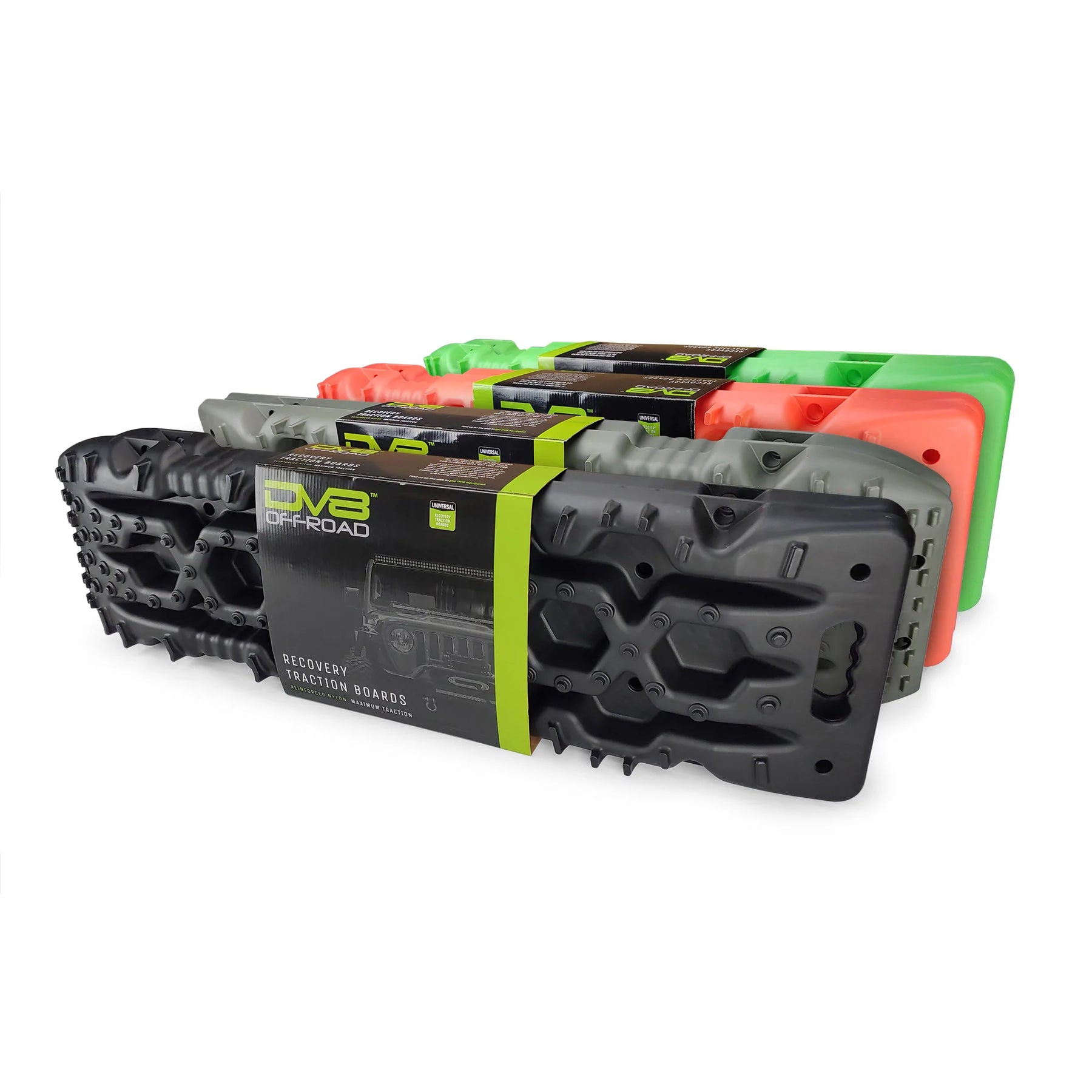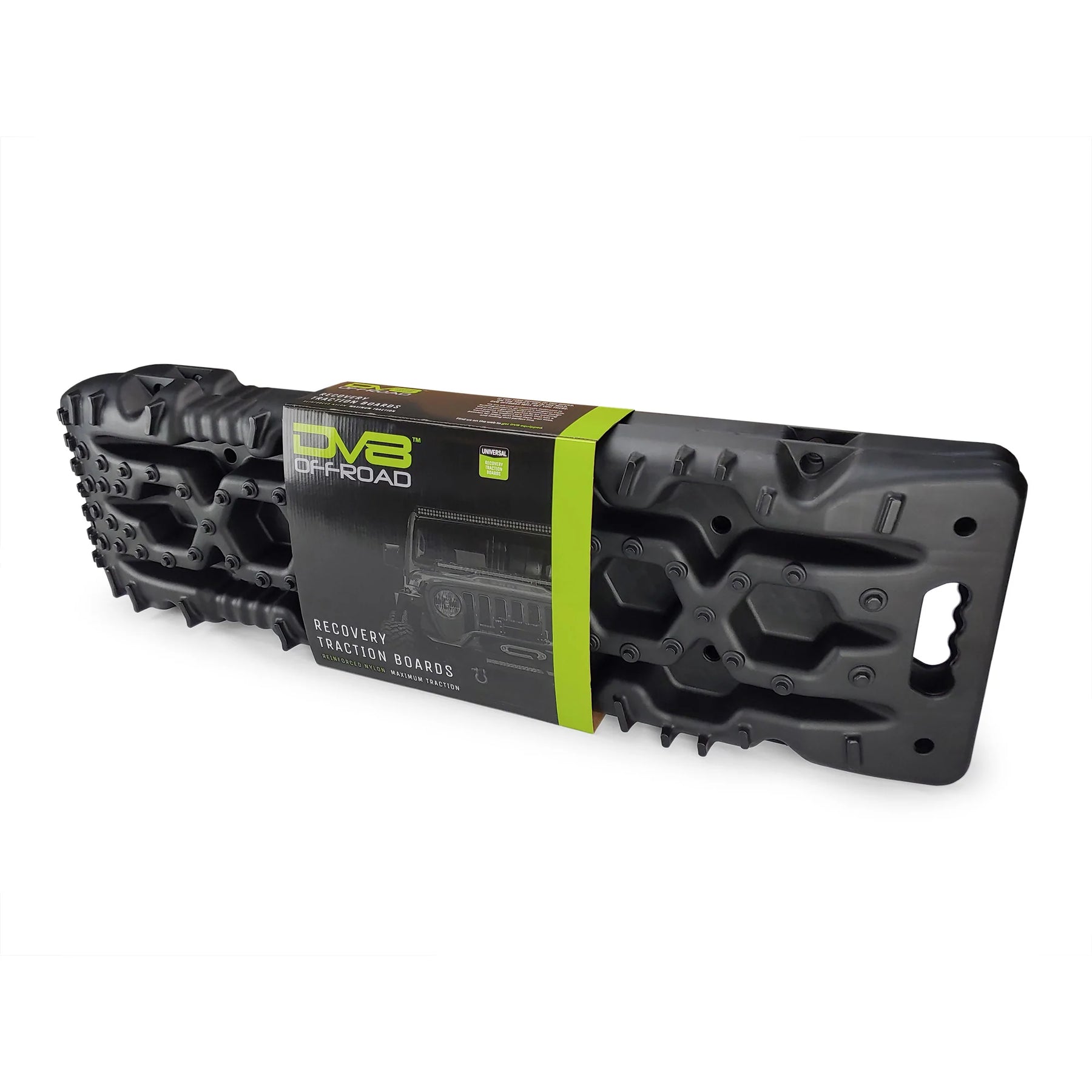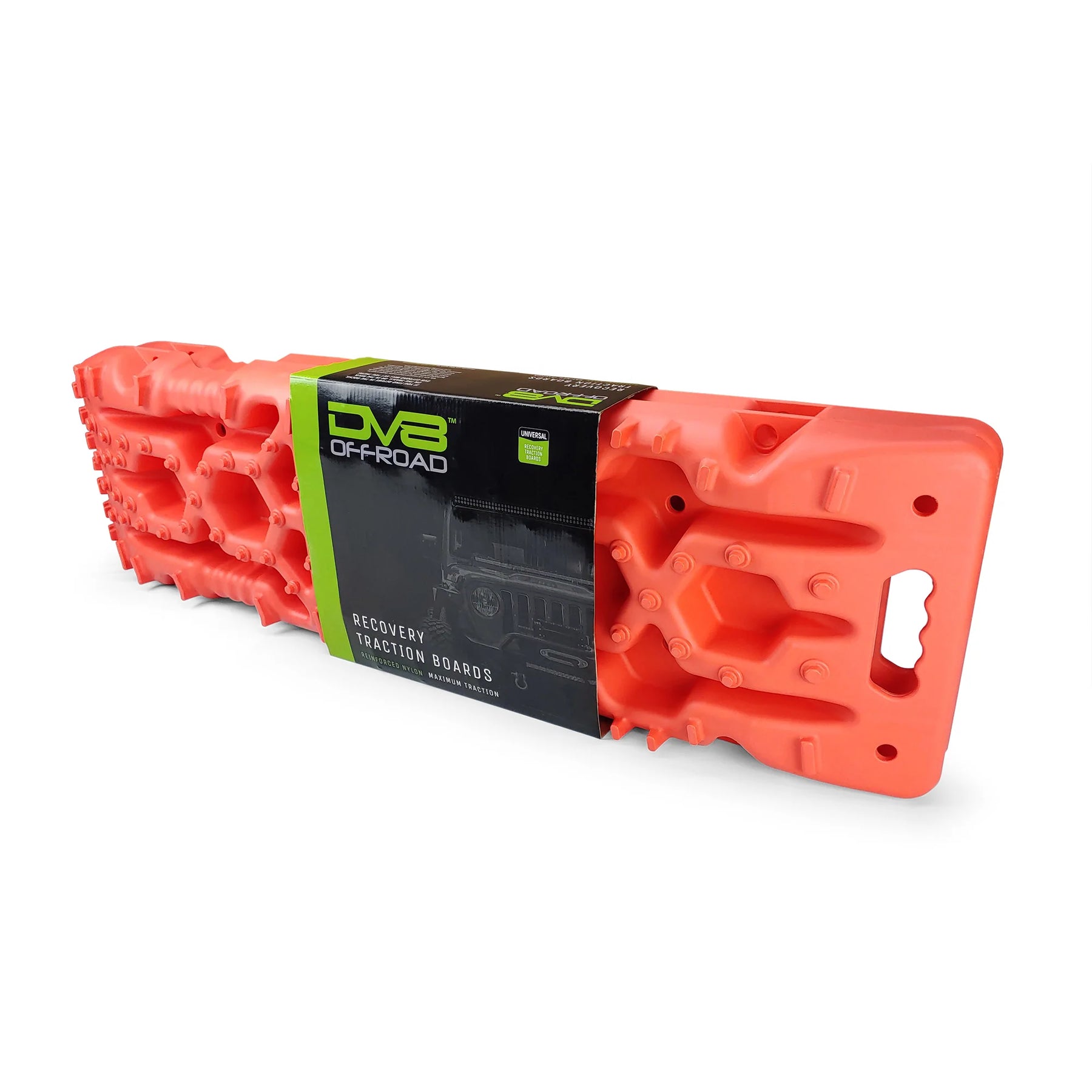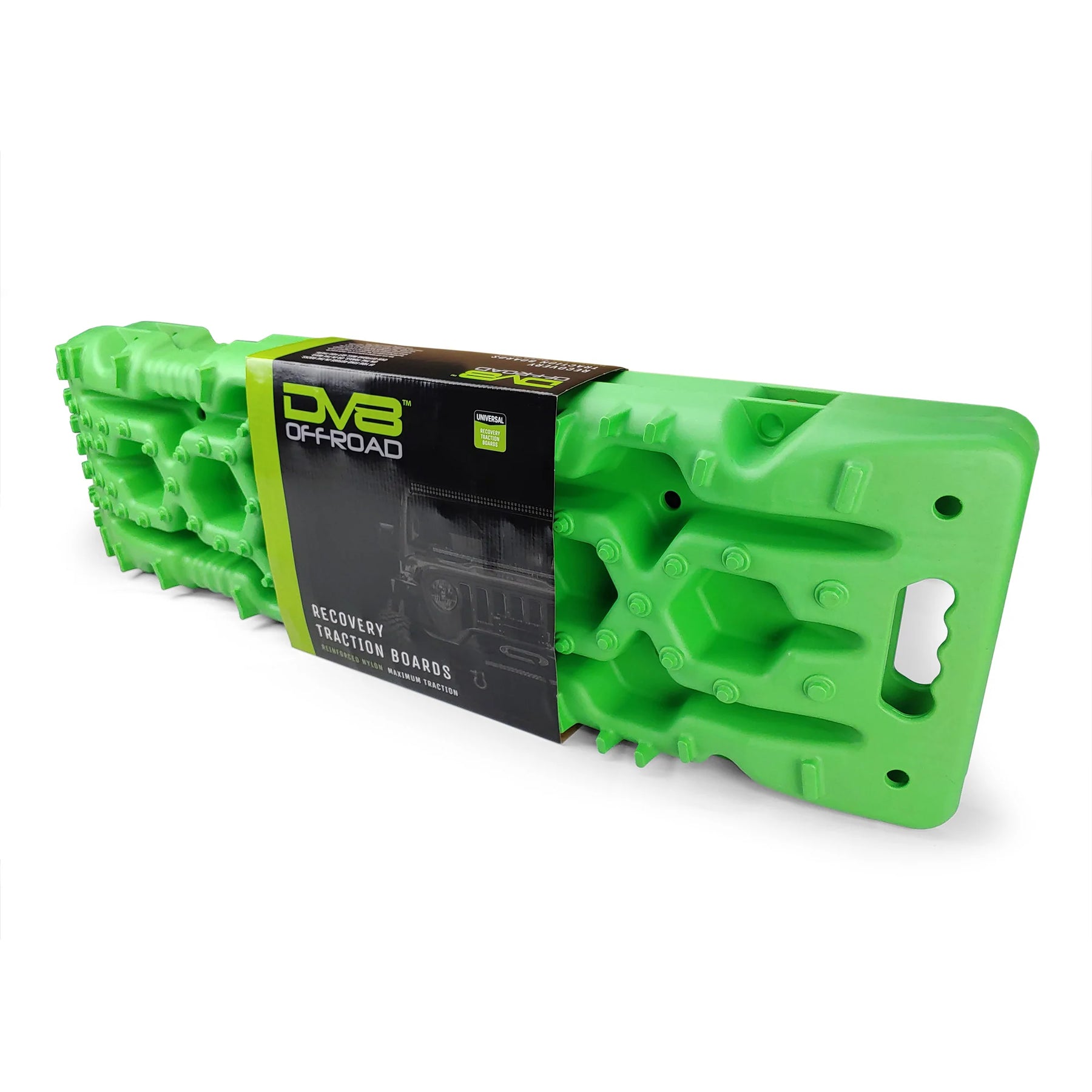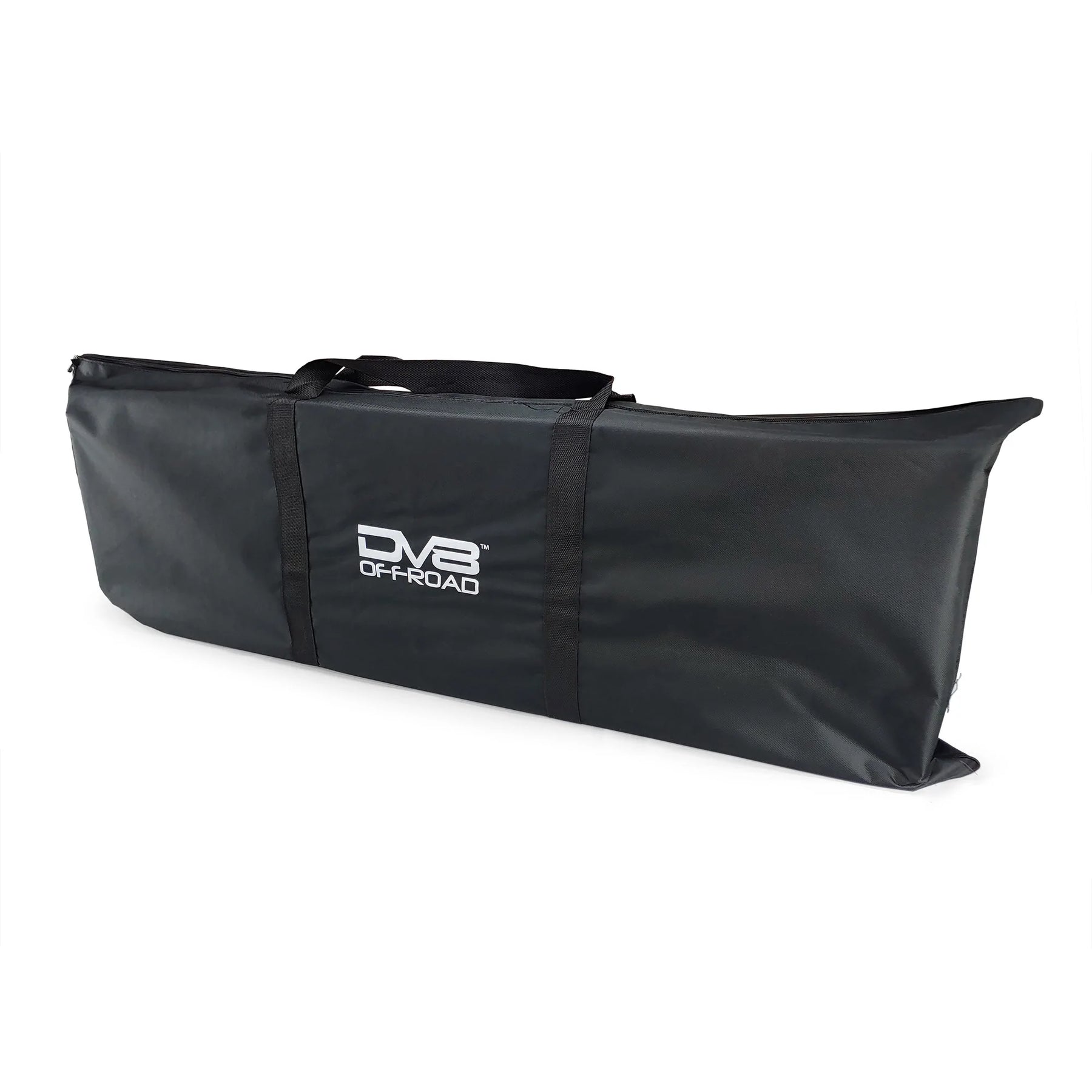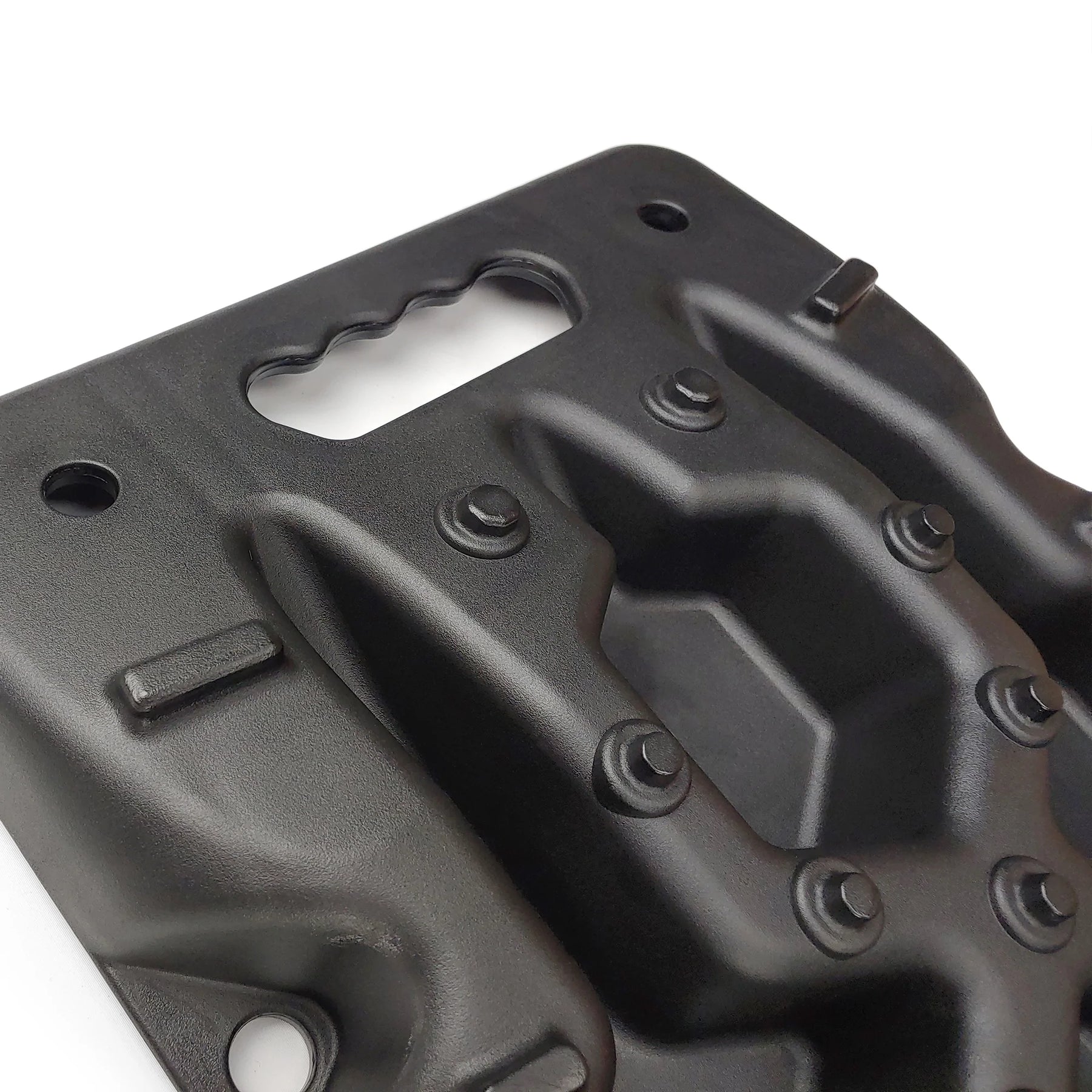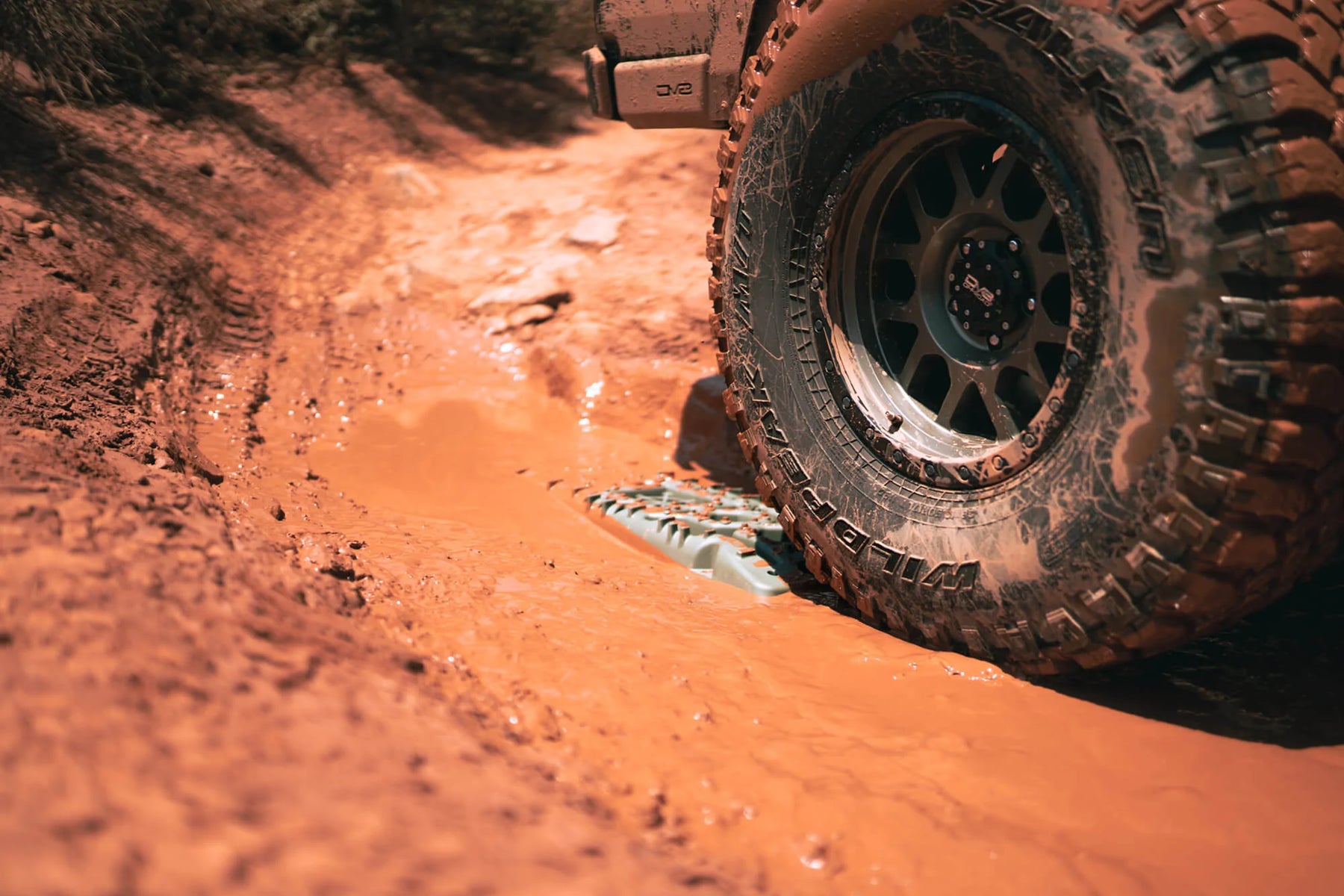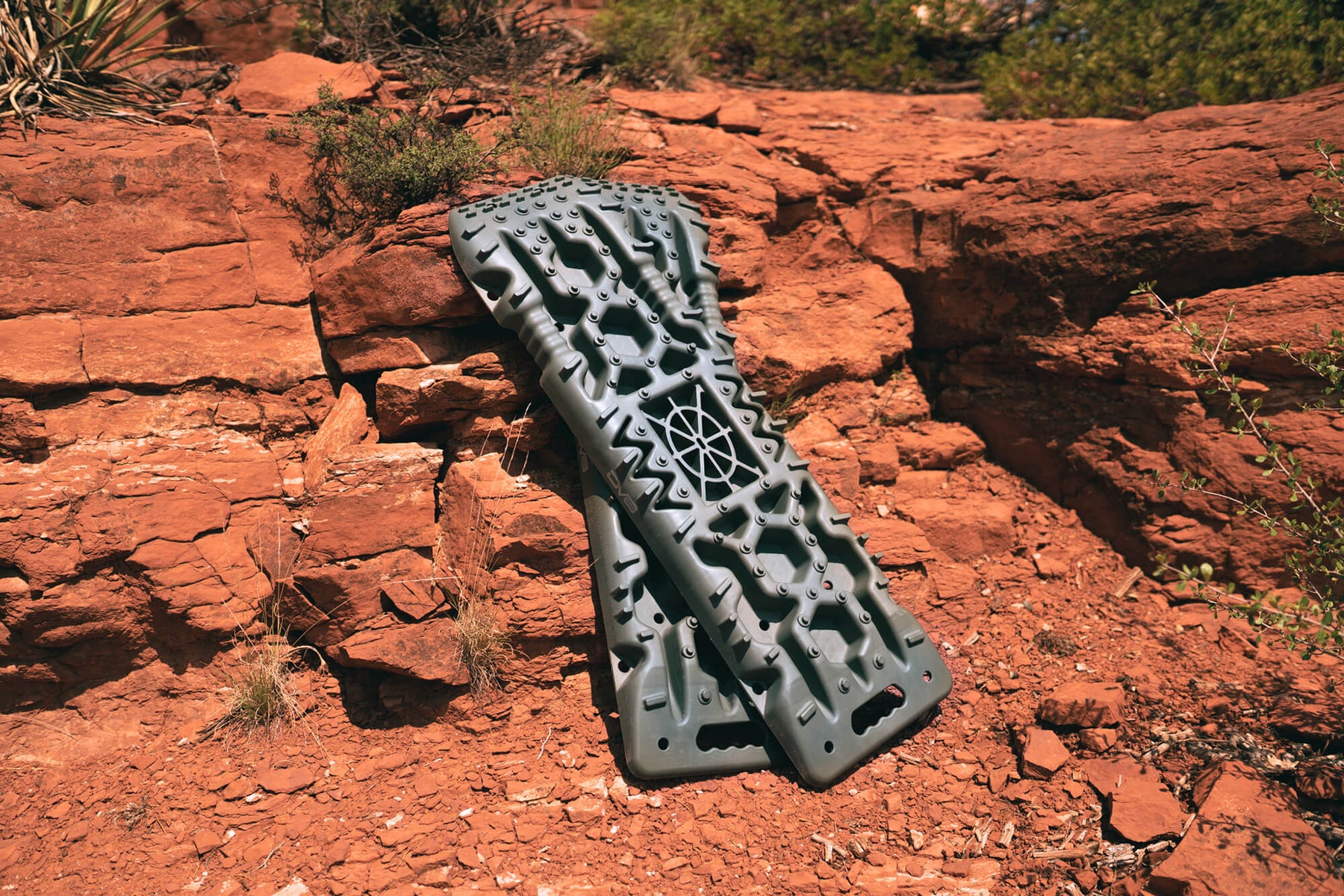 DV8 Offroad Recovery Traction Boards w/ Carry Bag
In Stock - 4 available
Backordered - We'll ship your order as soon as it's in stock! Email for estimated shipping date.
In Stock - 5 available
In Stock - 1 available
DV8 Offroad Traction Boards are a must for any trail ride. Designed with reinforced nylon, these boards will get you out of most situations with ease. Being able to withstand 10 tons of pressure allows them to be used as a Hi Lift stand, shovel, or for tire traction. When not in use, these boards are stackable to save space. They also come in a durable cloth carrying bag so they can be safely stored inside your vehicle without having to be washed immediately after use. 
Key Features:
Tested to Withstand 10 Tons of Compression
Stackable to Save Space on the Trail
Ergonomic Handles are Intuitive and Easy to Use
Base Specifically Made for a Hi-Lift Style Jack
Additional Functionality as a Shovel 
Various Holes Throughout the Boards Allow Multiple Mounting Options
Sold as a Pair
DV8 Off Road warrants all parts of its manufacture, furnished under this agreement, to be free from defects in workmanship and material for a period of ONE YEAR from the date of purchase. This limited warranty covers the cost of the product.

This limited warranty does not cover:
• installation,
• labor,
• freight,
• normal wear and tear,
• abuse,
• damage caused by mis-use, or
• damage caused by collision.

This limited warranty does not cover any consequential damages, including but not limited to the expense of being without the vehicle during inspection or repair/replacement period, delay, or mileage. Additionally, any and all implied warranties (including the warranty of fitness or merchantability) are limited for a period of one year from the date of purchase. This limited warranty is void if the product shows signs of alteration, modification, misuse, mishandling, improper care, and/or neglect. Also, this limited warranty is void in the event of improper installation. The liability of DV8 Off Road under this warranty is limited, and at DV8 Off Road option, solely to repair or replacement with equivalent products within a reasonable time.

This limited warranty is conditioned upon
• DV8 Off Road being notified by Purchaser within one month after discovery of any defects,
• the return of the defective product(s) to DV8 Off Road at Purchaser's expense within the limited warranty period; and
• DV8 Off Road examination of such product(s) and its satisfaction that such defects were not caused by negligence, misuse, improper maintenance, accident, or unauthorized repair or alteration.

The original limited warranty period of any product repaired or replaced by DV8 Off Road shall not thereby be extended. During the warranty period, this limited warranty is not transferable.

Customer understands that when Seller is not the manufacturer of the Products purchased by Customer hereunder and the only warranties offered are those of the manufacturer, not Seller or its Affiliates. In purchasing the Products, Customer is relying on the manufacturer's specifications only and is not relying on any statements, specifications, photographs or other illustrations representing the Products that may be provided by Seller or its Affiliates. SELLER AND ITS AFFILIATES HEREBY EXPRESSLY DISCLAIM ALL WARRANTIES EITHER EXPRESS OR IMPLIED, RELATED TO PRODUCTS, INCLUDING, BUT NOT LIMITED TO, ANY WARRANTY OF TITLE, ACCURACY, MERCHANTABILITY OR FITNESS FOR A PARTICULAR PURPOSE, WARRANTY OF NONINFRINGEMENT, OR ANY WARRANTY RELATING TO THIRD PARTY SERVICES. THE DISCLAIMER CONTAINED IN THIS PARAGRAPH DOES NOT AFFECT THE TERMS OF ANY MANUFACTURER'S WARRANTY. Customer expressly waives any claim that it may have against Seller or its Affiliates based on any product liability or infringement or alleged infringement of any patent, copyright, trade secret or other intellectual property rights (each a "Claim") with respect to any Product and also waives any right to indemnification from Seller or its Affiliates against any such Claim made against Customer by a third party. Customer acknowledges that no employee of Seller or its Affiliates is authorized to make any representation or warranty on behalf of Seller or any of its Affiliates that is not in this Agreement.

Seller warrants that the Product and /or Services will be quality and performed in a good and workmanlike manner. Customer's sole and exclusive remedy and Seller's entire liability with respect to this warranty will be, at the sole option of Seller, to either (a) use its reasonable commercial efforts to reperform or cause to be reperformed any Services not in substantial compliance with this warranty or (b) refund amounts paid by Customer related to the portion of the Services not in substantial compliance; provided, in each case, Customer notifies Seller in writing within five (5) business days after performance of the applicable Services. EXCEPT AS SET FORTH HEREIN OR IN ANY STATEMENT OF WORK THAT EXPRESSLY AMENDS SELLER'S WARRANTY, AND SUBJECT TO APPLICABLE LAW, SELLER MAKES NO OTHER, AND EXPRESSLY DISCLAIMS ALL OTHER, REPRESENTATIONS, WARRANTIES, CONDITIONS OR COVENANTS, EITHER EXPRESS OR IMPLIED (INCLUDING WITHOUT LIMITATION, ANY EXPRESS OR IMPLIED WARRANTIES OR CONDITIONS OF FITNESS FOR A PARTICULAR PURPOSE, MERCHANTABILITY, DURABILITY, TITLE, ACCURACY OR NON-INFRINGEMENT) ARISING OUT OF OR RELATED TO THE PERFORMANCE OR NON-PERFORMANCE OF THE SERVICES, INCLUDING BUT NOT LIMITED TO ANY WARRANTY RELATING TO THIRD PARTY SERVICES, ANY WARRANTY WITH RESPECT TO THE PERFORMANCE OF ANY HARDWARE OR SOFTWARE USED IN PERFORMING SERVICES AND ANY WARRANTY CONCERNING THE RESULTS TO BE OBTAINED FROM THE SERVICES. THIS DISCLAIMER AND EXCLUSION SHALL APPLY EVEN IF THE EXPRESS WARRANTY AND LIMITED REMEDY SET FORTH HEREIN FAILS OF ITS ESSENTIAL PURPOSE. CUSTOMER ACKNOWLEDGES THAT NO REPRESENTATIVE OF SELLER OR OF ITS AFFILIATES IS AUTHORIZED TO MAKE ANY REPRESENTATION OR WARRANTY ON BEHALF OF SELLER OR ANY OF ITS AFFILIATES THAT IS NOT IN THIS AGREEMENT OR IN A STATEMENT OF WORK EXPRESSLY AMENDING SELLER'S WARRANTY.

Seller will not be responsible for and no liability shall result to Seller or any of its Affiliates for any delays in delivery or in performance which result from any circumstances beyond Seller's reasonable control, including, but not limited to, Product unavailability, carrier delays, delays due to fire, severe weather conditions, failure of power, labor problems, acts of war, terrorism, embargo, acts of God or acts or laws of any government or agency. Any shipping dates or completion dates provided by Seller or any purported deadlines contained in a Statement of Work or any other document are estimates only.