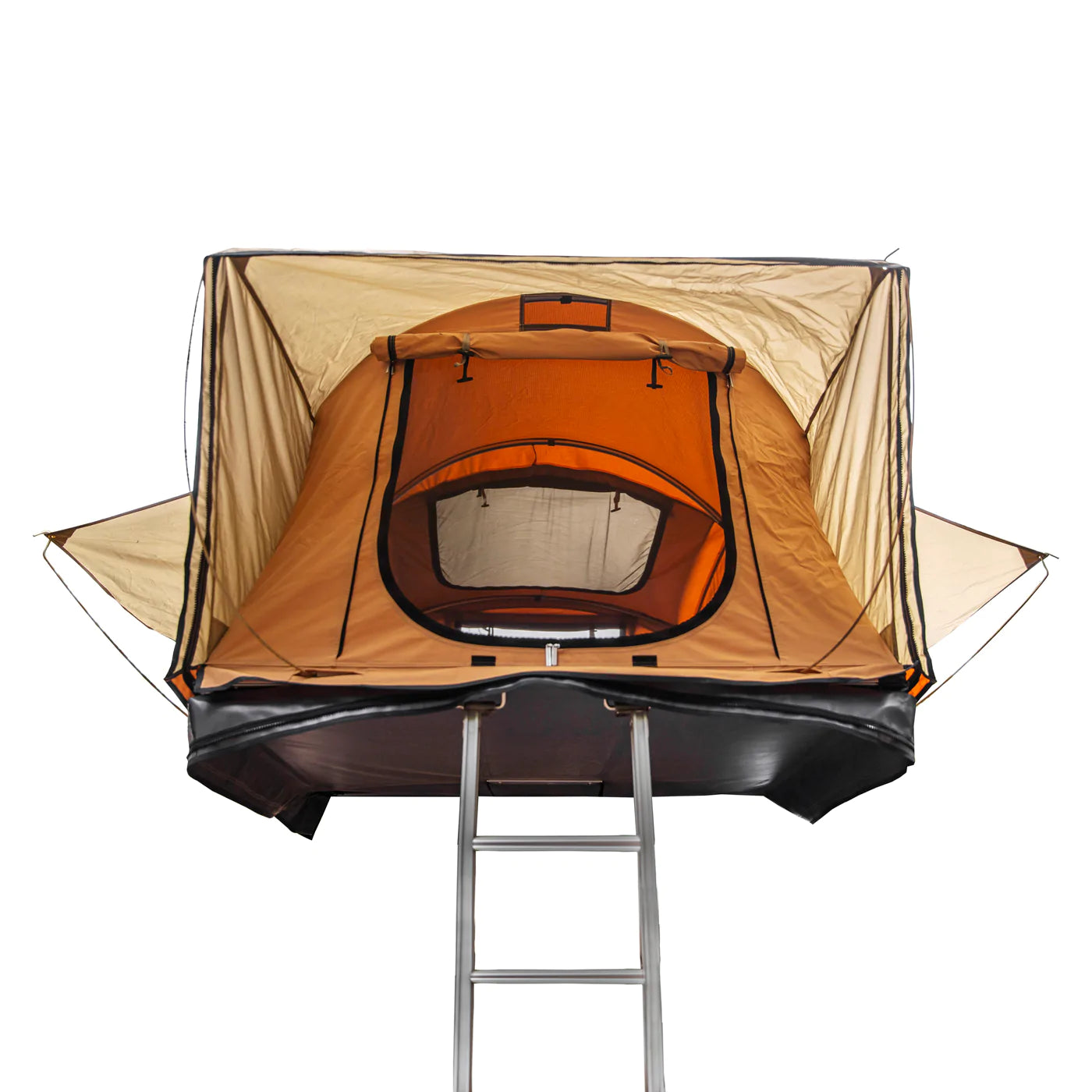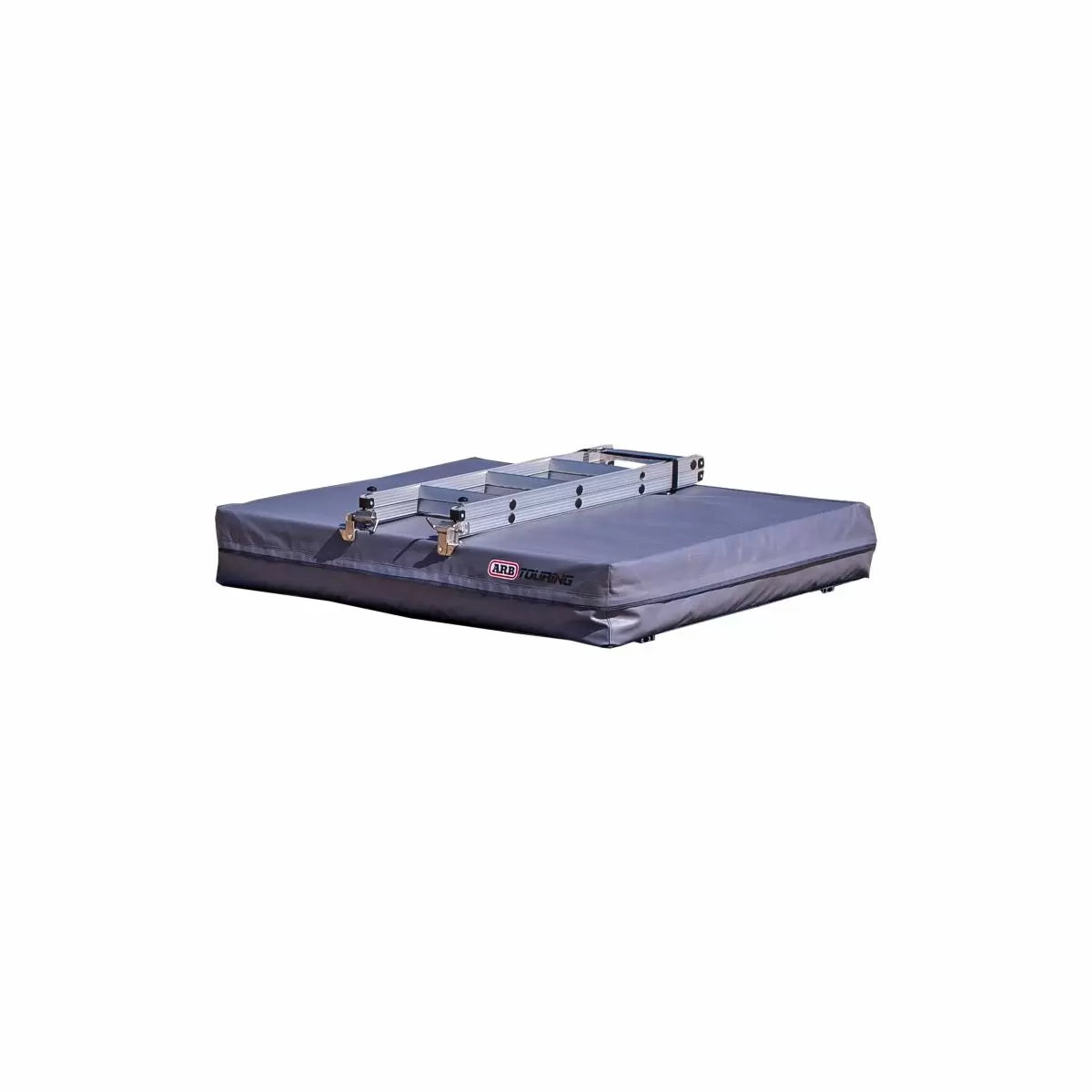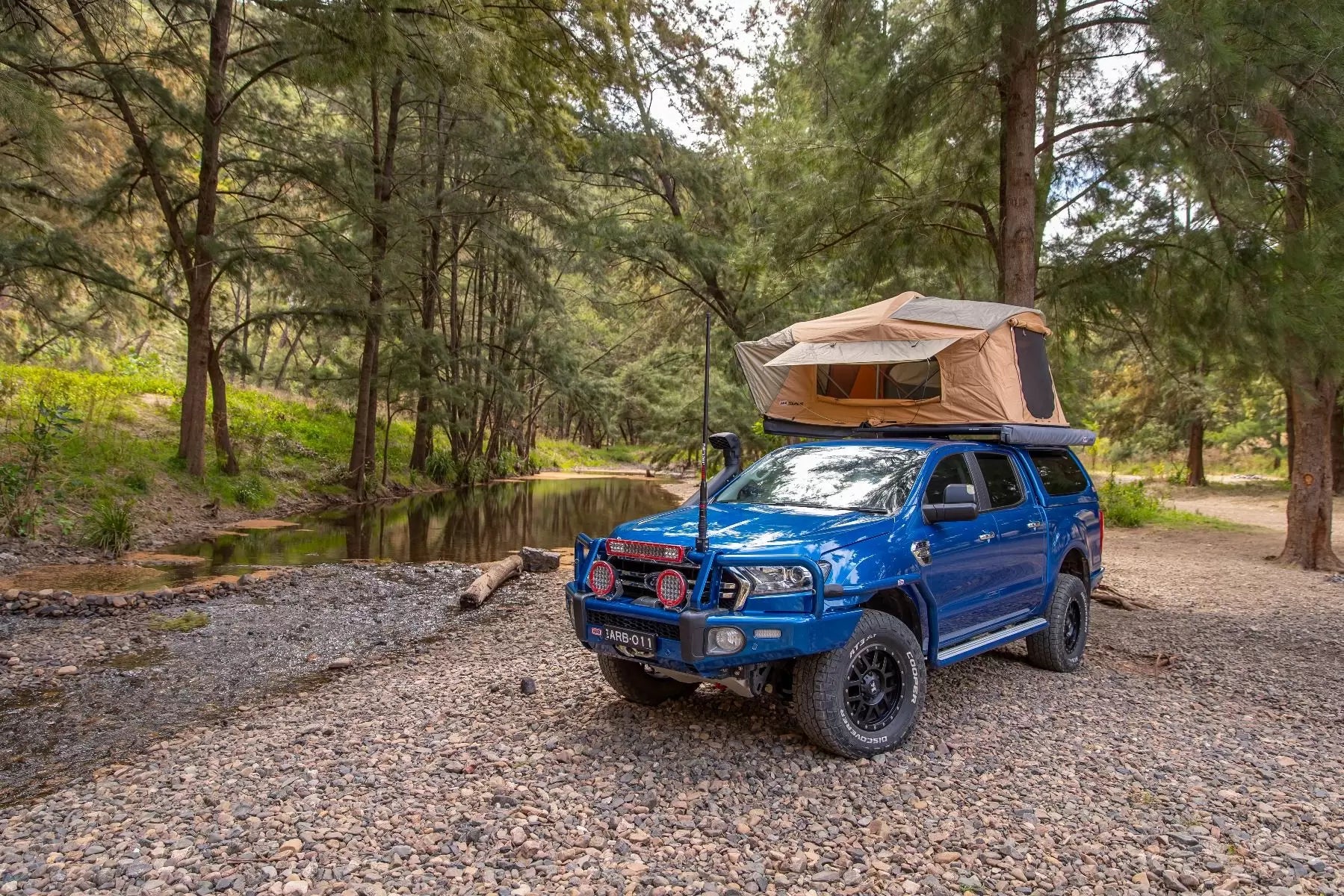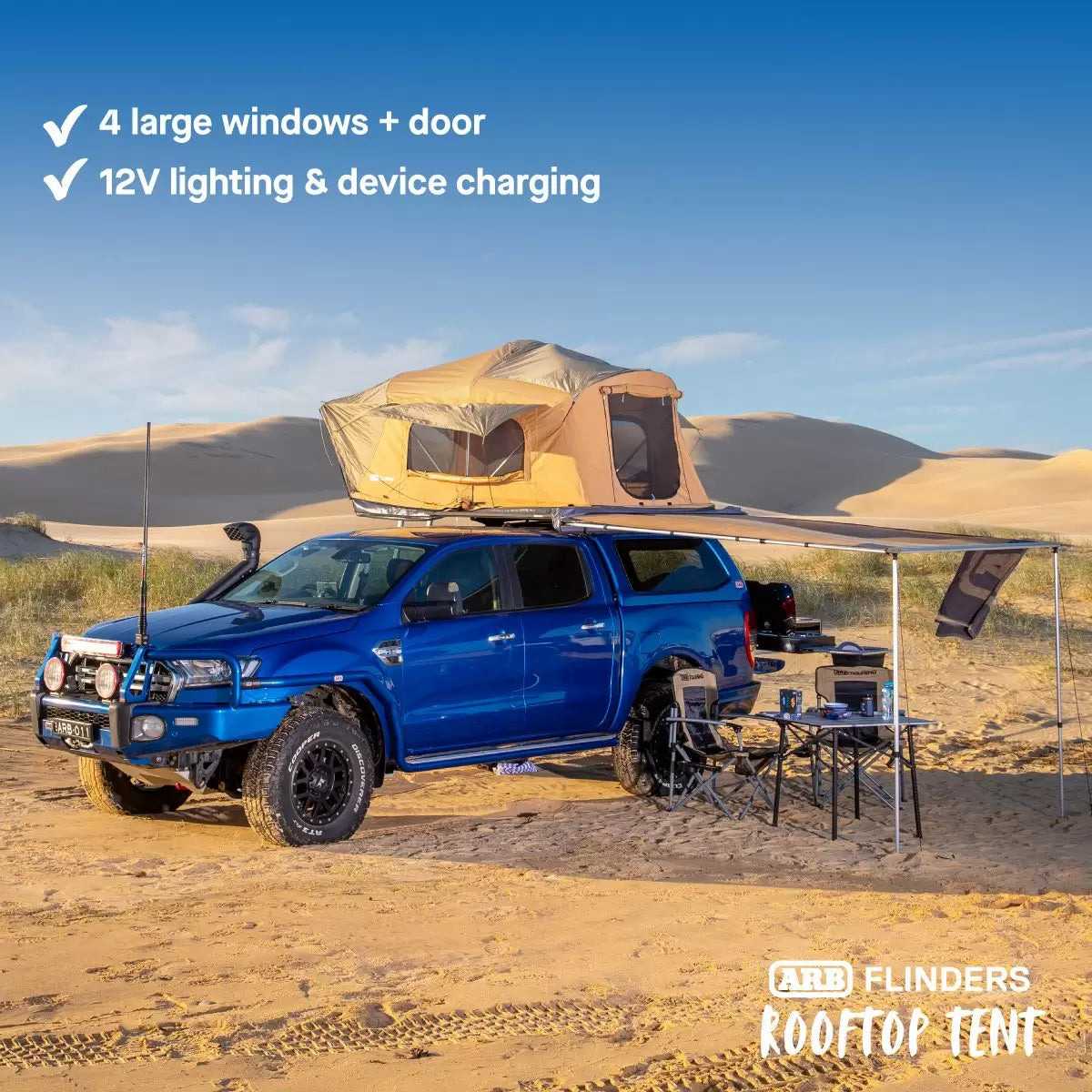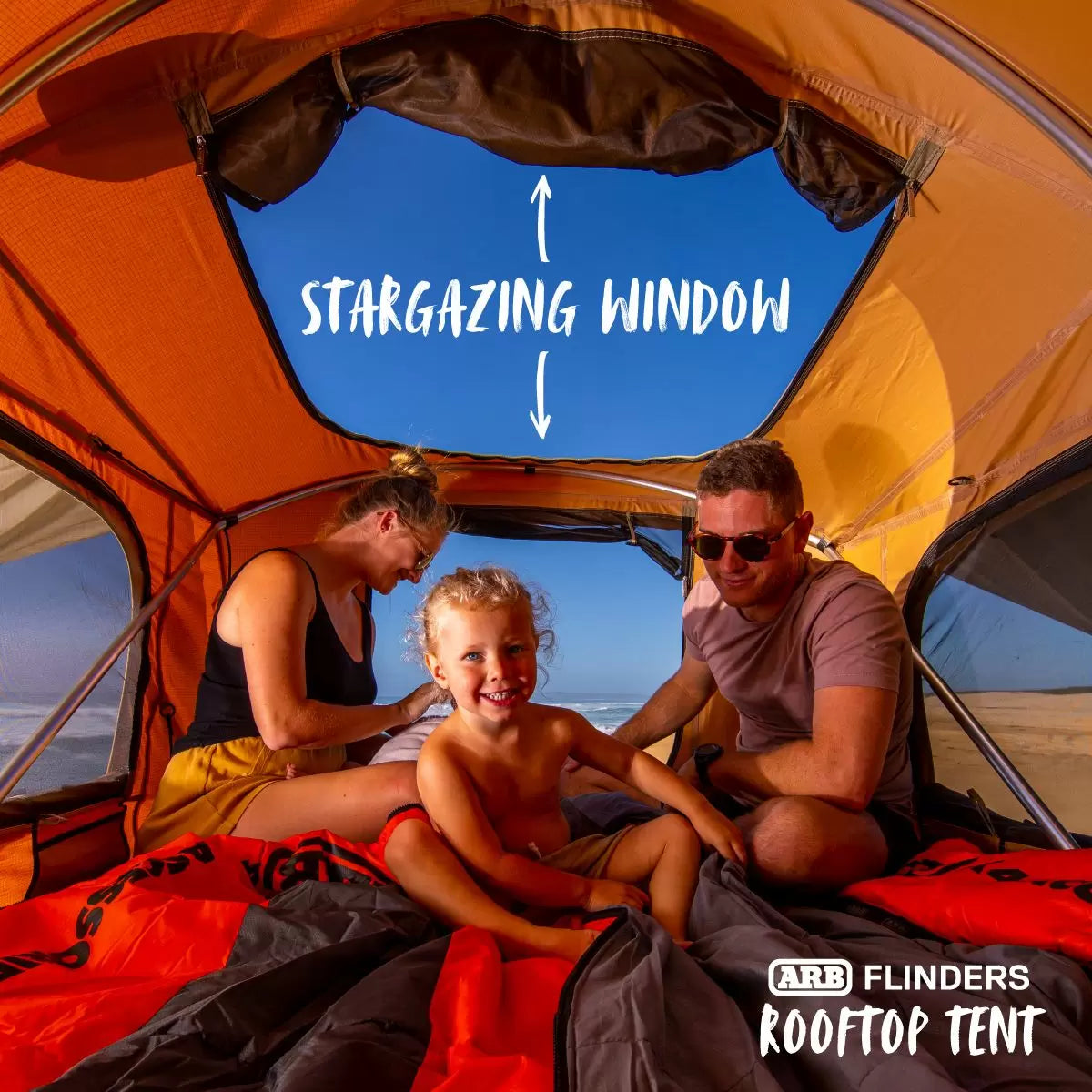 Flinders Rooftop Tent
Backordered - We'll ship your order as soon as it's in stock! Email for estimated shipping date.
The new ARB Flinders Rooftop Tent (RTT), which takes its name from one of Australia's most popular 4WD touring destinations, brings with it a host of new features and updates not previously offered within the ARB range. The ARB Flinders Rooftop Tent is low-profile when stored, without compromising on camping comfort. The Flinders RTT boasts an all-new cover system to stand up to the elements.
When packed, the new Flinders RTT has a lower profile by nearly four inches in comparison to ARB's current and popular Simpson Rooftop Tent. A lower packed height means less wind drag and less overall height to your vehicle. The removable ladder means you can choose to either keep the ladder on the roof or stow it elsewhere when overlanding or for daily driving. Without the ladder affixed, the overall height of the tent when packed is less than eight inches, or 12 inches with the ladder packed, allowing for improved access to low roof areas and tracks.
Setup is a breeze; after unzipping the cover and pulling the tent open with the ladder, all the internal poles sequentially fan out into place.
Exterior Features:
Easy setup and hassle-free pack down,internal poles intuitively fan into place
Skylight offers view of the stars with weather-proof closure
Manage airflow via five zippered windows featuring dual midge-proof mesh screens
Coated in a UV resistant, mold-proof protectorate for longevity
Curved roof poles provide improved head height and the removal of flat surfaces that can occur with use of straight poles.
PVC cover has some new and handy features including a pull-over clip lock and sturdy zipper
The head-end and roof windows feature roll-up solid screens, which can be accessed from inside the tent when set up
Aluminum retractable ladder (removable)
Interior Features:
Roomy internal bed space comfortably sleeps two adults
Includes a comfortable 2in high-density foam mattress with bedding retention straps
Five large, zippered windows and an integrated vent manage airflow and reduce condensation
Internal light and USB charging port can be easily connected to your vehicle's 12-volt outlet
Both side windows and the tent entrance are equipped with rain and sun awning shelters that require no ropes or ground poles
Technical Specifications:
300gsm poly cotton rip-stop canvas & 420D oxford polyester fly for sunroof & window awnings
3 + 1 Door Entry, 1 Skylight and 1 All-weather ventilation port
Internal seam sealing and bar tack stitching on tensioned areas
Self-repairing coil zips
Base has ABS laminated insulated aluminum internal frame
Internal metal camlock bows with 25mm diameter frame
Aluminum retractable ladder, 264.5lb rating (externally stored)
Overall internal bed space: 8ft (L) x 4.6ft (W) with a maximum head space of 4' in the center of the tent
Outer Grey Cover: 600gsm heavy duty PVC cover and no need to remove cover
Weight & Dimensions:
Shipping dimensions: 57 in (L) x 49 in(W) x 12 in (H)
Shipping weight: 158 lb
Packed product dimensions: 55 in (L) x 47 in (W) x 8 in (H) (12 in H with ladder)
Open product dimensions: 55 in(L) x 94 in (W) x 55 in (H)
Product weight: 123 lb
1. OUR WARRANTY
We warrant to You that:
The ARB Product is free from defects in workmanship and materials for the Warranty Period.

2. FITTING AND USE
Please ensure You:
(a) fit the ARB Product in accordance with the Product Information and all relevant vehicle safety and compliance laws; and
(b) use the ARB Product for the purpose for which it was originally designed and in accordance with the Product Information and all relevant vehicle safety and compliance laws.

3. EXCLUSIONS
Our warranty does not cover:
(a) normal wear and tear;
(b) fitting of the ARB Product other than in accordance with the Product Information and all relevant vehicle safety and compliance laws, including incorrect fitting;
(c) using the ARB Product other than for the purpose for which it was originally designed or other than in accordance with the Product Information and all relevant vehicle safety and compliance laws, including unusual, improper or negligent use or misuse or overloading;
(d) misuse or neglect of the ARB Product, including improper repair or maintenance or failing to repair and maintain;
(e) alteration, abuse, acts of nature, terrorism, vandalism, collision, road hazards or adverse conditions;
(f) formal or informal competitive events, such as racing, rallying, hill climbing, speed trials or similar activities; and/or
(g) using the ARB Product in underground mining or other highly corrosive environments.

4. MAKING A CLAIM
Please immediately contact Us as soon as You become aware of a possible defect in the ARB Product.
We will request You to provide the purchase receipt and complete an online warranty claim form. Please note that no warranty claim will be accepted without proof of purchase of the ARB Product. Please do not remove the fitted ARB Product from Your vehicle before contacting Us. If Your claim is in order, we'll notify You and (at Our sole discretion):
– We will either repair or replace the defective workmanship or materials (at Our cost) or refund to You the purchase price You paid for the defective ARB Product. The choice of whether We repair, replace or refund is at Our sole discretion. If further information or investigation is required or if the claim does not meet the requirements under Our warranty, we'll let You know.

5. COMMERCIAL APPLICATION
For all ARB Products used for commercial applications including (without limitation) taxis, hire vehicles and use
in the mining industry, ARB warrants to You that the ARB Product is free from defects in workmanship and materials for the Commercial Use Warranty Period.

6. CONSUMER RIGHTS
The benefits to You under Our warranty are in addition to any other rights and remedies You are entitled to under relevant consumer laws. Our warranty replaces any other warranty given by ARB or its supplier in respect of the ARB Product or the ARB Service. Some states do not allow the exclusion or limitation of incidental or consequential damages or limitations on how long an implied warranty lasts, so the below limitations or exclusions may not apply to you.
The warranty gives you specific legal rights and you may also have other rights which vary from state to state. This warranty applies to all states and territories of United States of America and Canada only.

7. LIMITATIONS
Except as expressly provided in this limited warranty and the user terms, ARB makes no representations, guarantees, conditions or warranties, either express or implied. Any other standards of performance, guarantees, conditions and warranties are hereby expressly excluded and disclaimed to the fullest extent permitted by law. This disclaimer and exclusion shall apply even if the express limited warranty contained in the limited warranty and user terms fails of its essential purpose.

Any implied warranties that may be imposed by law shall be limited to the duration of the limited warranty above. Otherwise the repair, replacement, or refund as provided under such express limited warranty is provided in lieu of all other warranties, express or implied. To the fullest extent these damages may be disclaimed by law, ARB will in no event be liable, whether in contract or tort or any other legal theory, including without limitation strict liability, gross negligence or negligence, for any damages in excess of the purchase price of the product or for any direct, indirect, incidental, special, consequential or punitive damages of any kind, regardless of whether ARB was advised of the possibilities of such damages. ARB is not liable for any claim made by a third party or made by you for a third party.

8. WARRANTY TERMS
the period commencing on and from the Purchase Date and ending as follows:

ARB PRODUCT – WARRANTY PERIOD
Air Locker® – Five (5) years unlimited miles

ARB Branded Product – Three (3) years unlimited miles*

*Bushes, bearings, shackles, pins, U-bolts, batteries, globes, gas struts – One (1) year or 25,000 miles (whichever occurs first)

COMMERCIAL USE – WARRANTY PERIOD
Air Locker® & ARB Branded Product – Three (3) years or 60,000 miles (whichever occurs first)*

*Bushes, shackles, pins, U-bolts, batteries, globes, gas struts – One (1) year or 25,000 miles (whichever occurs first)