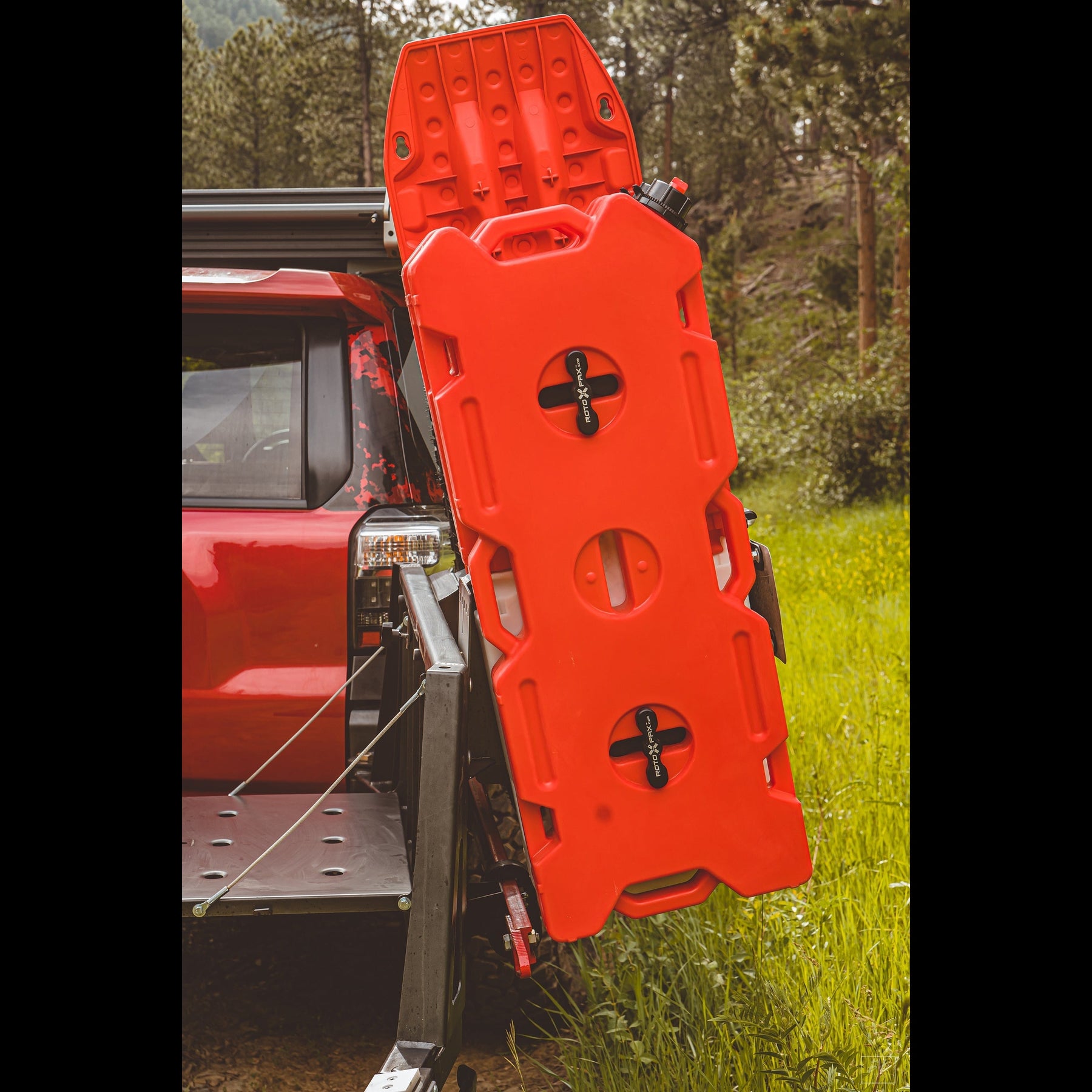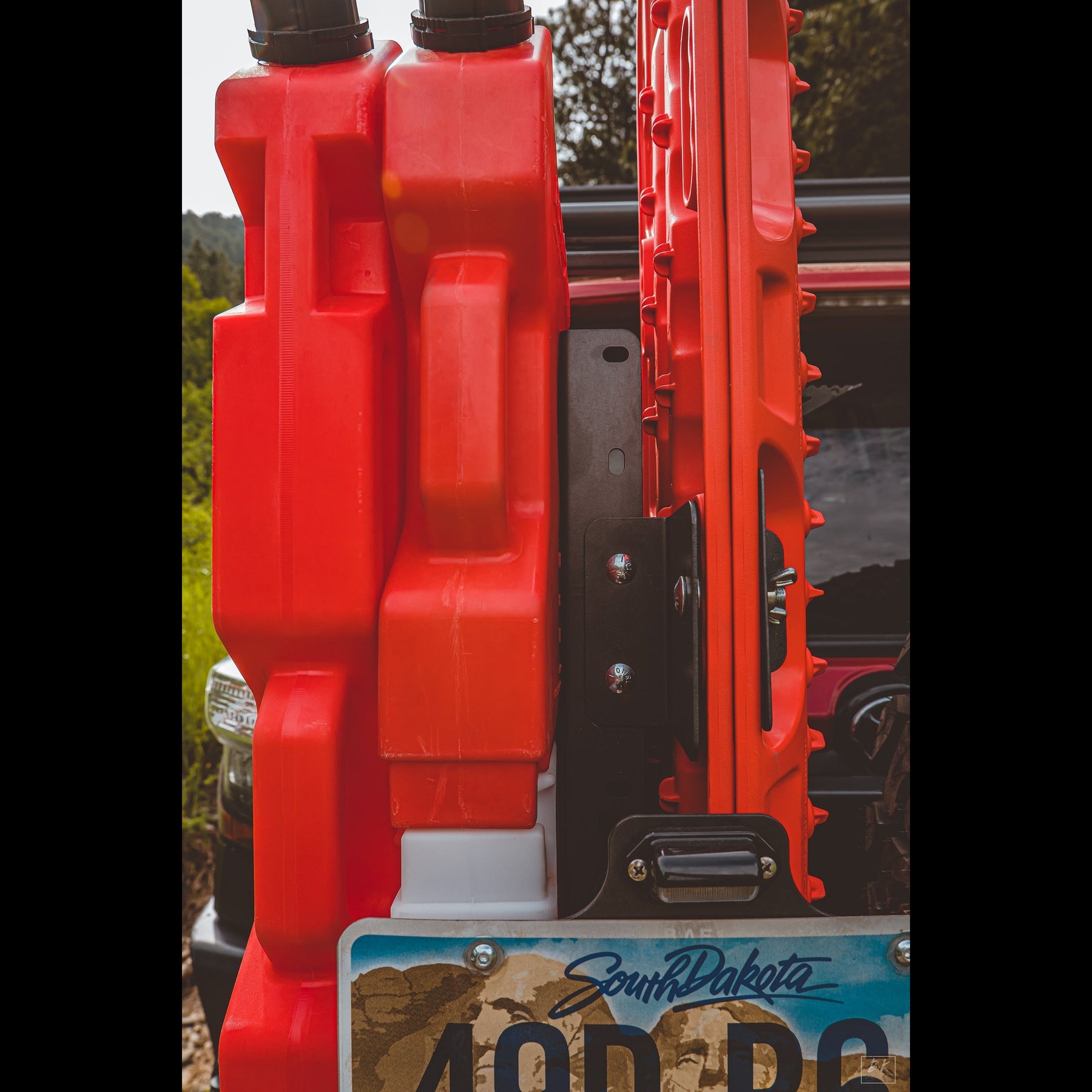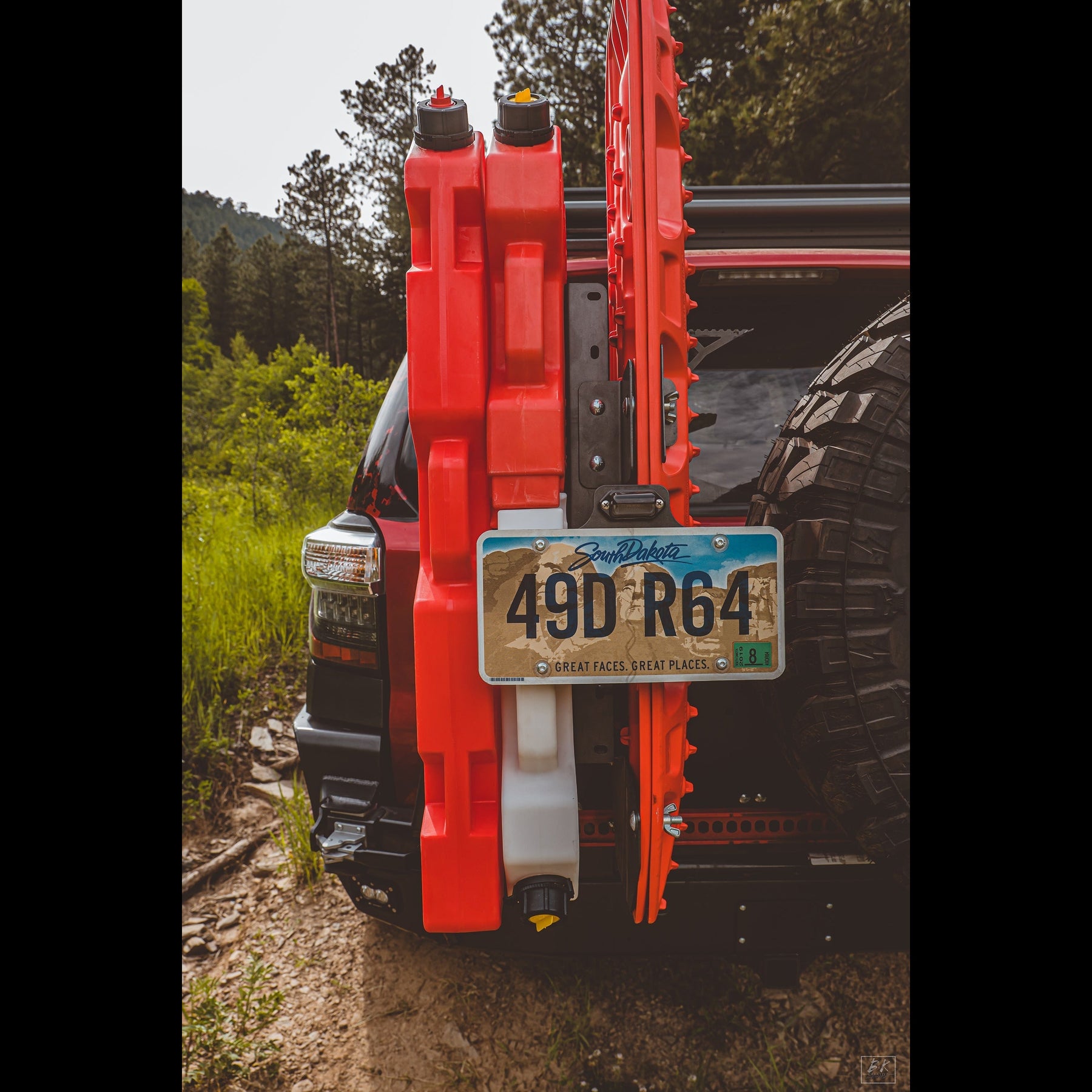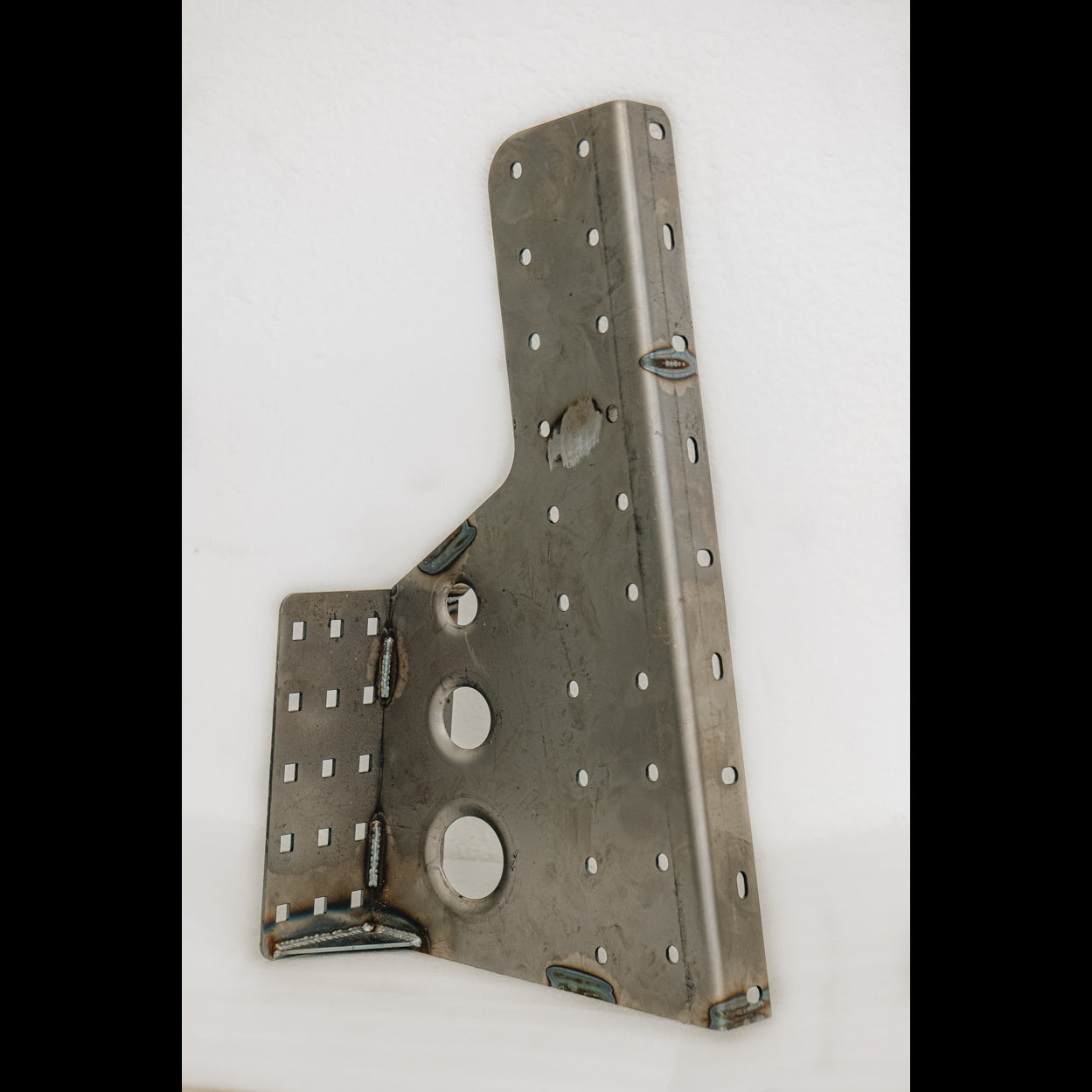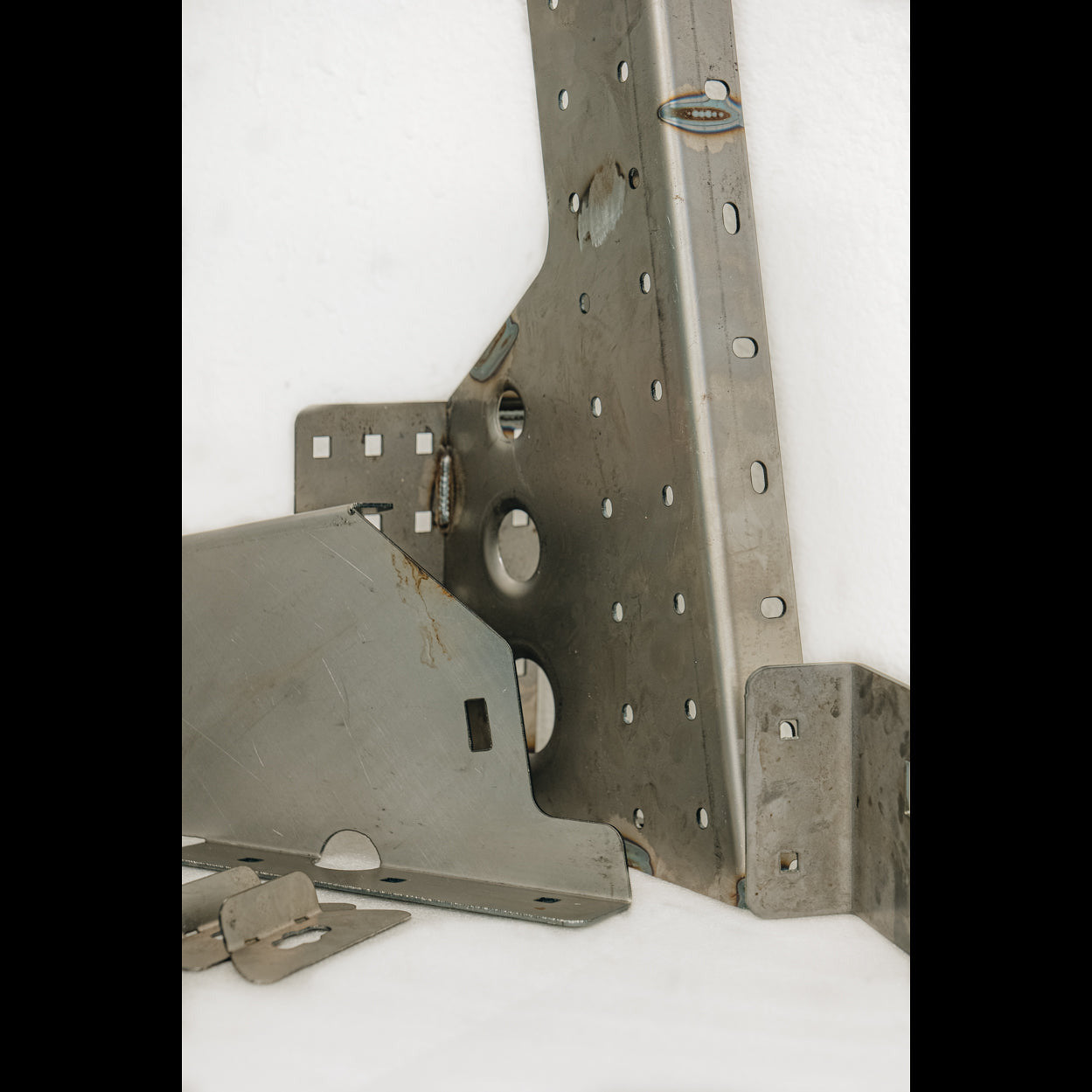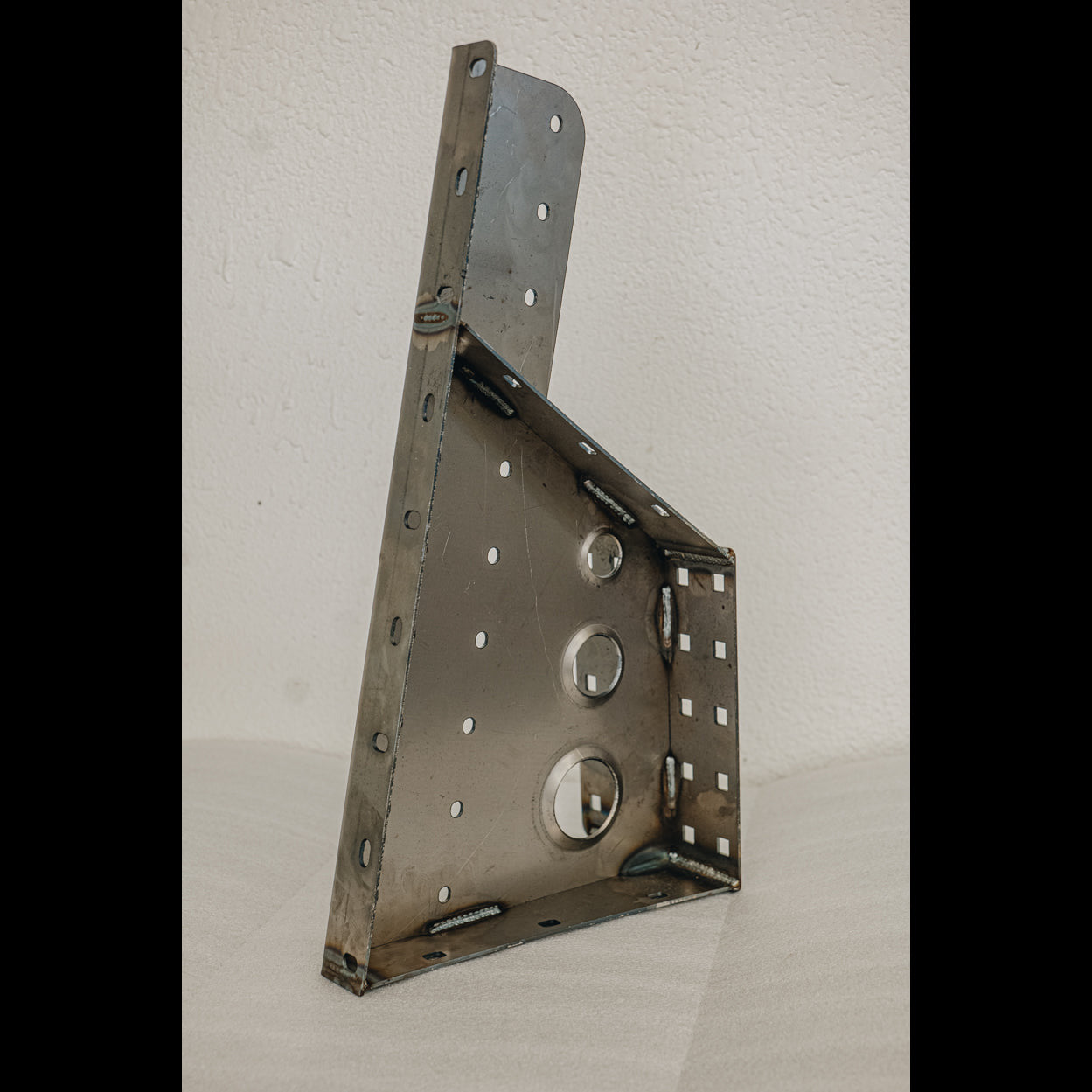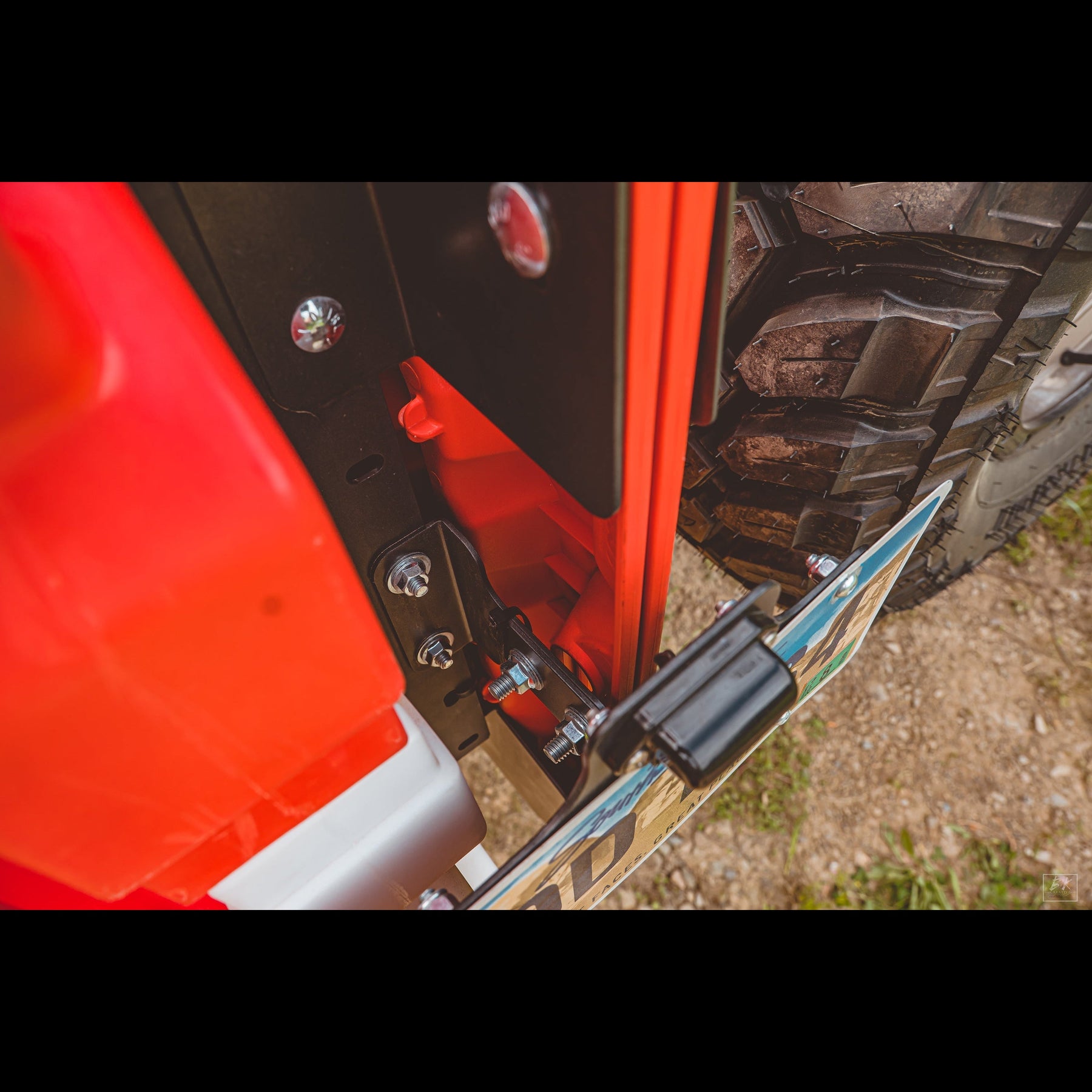 Rotopax / Maxtrax Mount
License Plate Mount and Light:
License Plate Mount and Light
Made to Order - Please allow 2 weeks for your order to ship.
Made to Order - Please allow 2 weeks for your order to ship.
(Lead-Time)

Mounting bracket and hardware to mount RotoPax and Maxtrax together in one setup.
Kit is designed to bolt onto C4 swing outs but, kit can also be mounted to other flat surfaces as long as four 3/8″ diameter holes are available to match the bolt pattern of the mount.


Holds up to 4 Maxtrax
Maxtrax brand mounting pins can be used to attach Maxtrax to our mount but they are not required. Carriage bolts with wing nuts are supplied with the kit to attach Maxtrax if needed.
Holds up to four 2 gallon fuel or water RotoPax, or up to two 4 gallon fuel or water RotoPax.
RotoPax brand Pack Mounts also required to mount RotoPax to our mounting system.
Ships bare steel, parts need to be powder coated or painted to prevent rust.
Mounts to a flat surface using six 3/8″x1″ carriage head bolts.
Optional license plate mount with light can be used to relocate the plate to a visible location so the plate is not hidden for the user's specific application.

Shipping Line 1
Shipping Line 2
Shipping Line 3

(PDF-Instructions)(Template)(Embed-Video)
C4 FAB LLC will warranty all products produced and distributed by C4 FAB LLC for ONE YEAR after the shipping date of the product. This warranty will include any issues caused by manufacture defects including failing or broken welds and/or failing or broken hardware and mechanical parts that are shipped with the product. C4 FAB LLC DOES NOT WARRANTY POWDER COAT FINISH ON ANY PRODUCTS THAT ARE SHIPPED POWDER COATED OR CAN BE ORDERED WITH THE OPTION TO BE POWDER COATED. Products will only be warrantied if installed in accordance with C4 FAB LLC installation guidelines. Any modification to the original product design, functionality, or use, by said customer voids all warranty eligibility. It is the sole discretion of C4 FAB LLC to determine warranty eligibility. Our One Year Warranty is effective for as long as the original retail purchaser owns the product. This warranty terminates when the original retail purchaser sells or otherwise transfers the product to any other person.

C4 FAB LLC reserves the right to remedy defects in workmanship or materials in one of three ways.

C4 FAB LLC will issue replacements components to the customer that deems defective or inconsistent with the quality of its brand.
C4 FAB LLC will elect to issue the customer a full or partial refund for the defects or damages of the product.
C4 FAB LLC will pay the cost of having a shop near the customer perform repairs on the product if it is deemed that this option is more affordable and will satisfy the customers warranty request.
This warranty does not cover defects caused by normal wear and tear, rust, scratches, accidents, or products used for racing/competition. This warranty does not cover damage to the finish of powder coated products. C4 FAB LLC is not responsible for defects that are not in control of C4 FAB LLC such as, trail damage, highway damage or car accidents, overloading, incorrect assembly, poor maintenance practices or damaging acts of god such as extreme weather e.g.: hail, flooding, lightning, extreme wind.

REPLACEMENT OF A DEFECTIVE PRODUCT OR THE ISSUANCE OF A REFUND (AS DETERMINED BY C4 FAB LLC) IS A PURCHASER'S EXCLUSIVE REMEDY UNDER THIS WARRANTY. ANY AND ALL DAMAGE TO A PURCHASER'S VEHICLE, CARGO AND/OR TO ANY OTHER PERSON OR PROPERTY IS EXCLUDED.