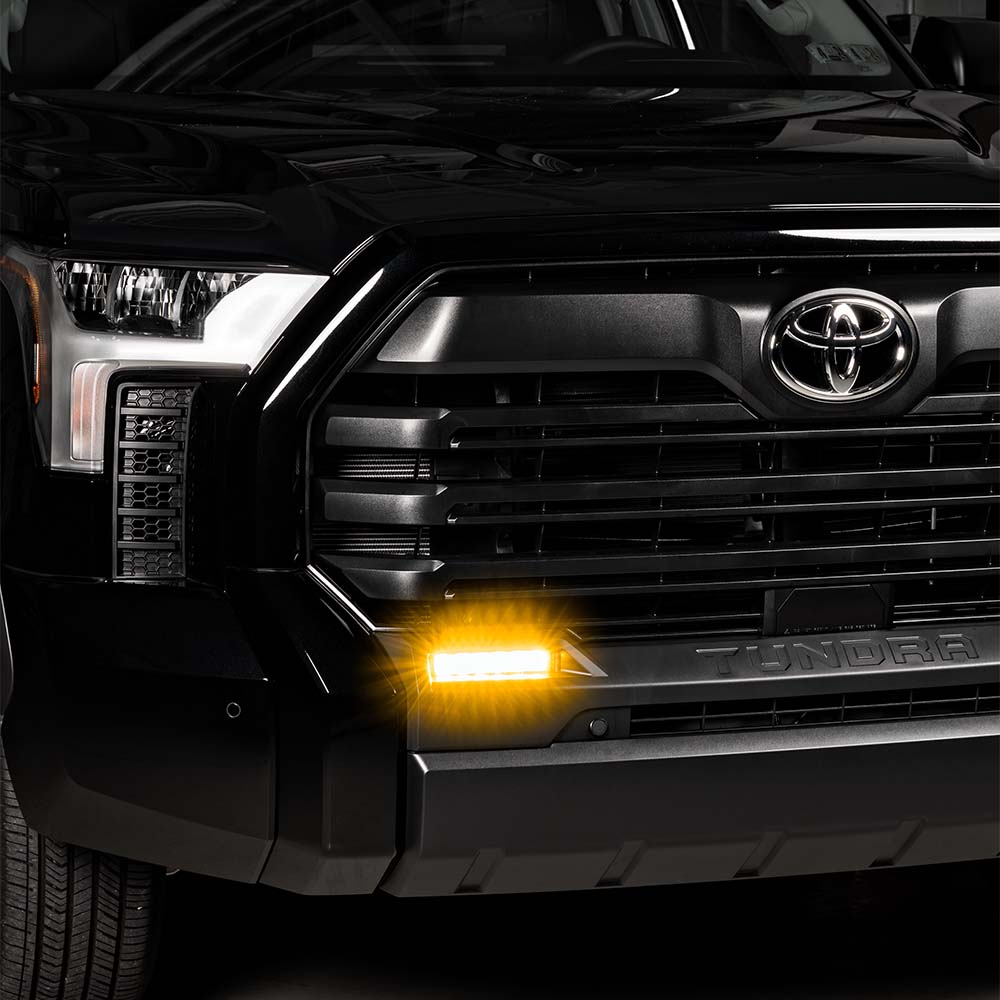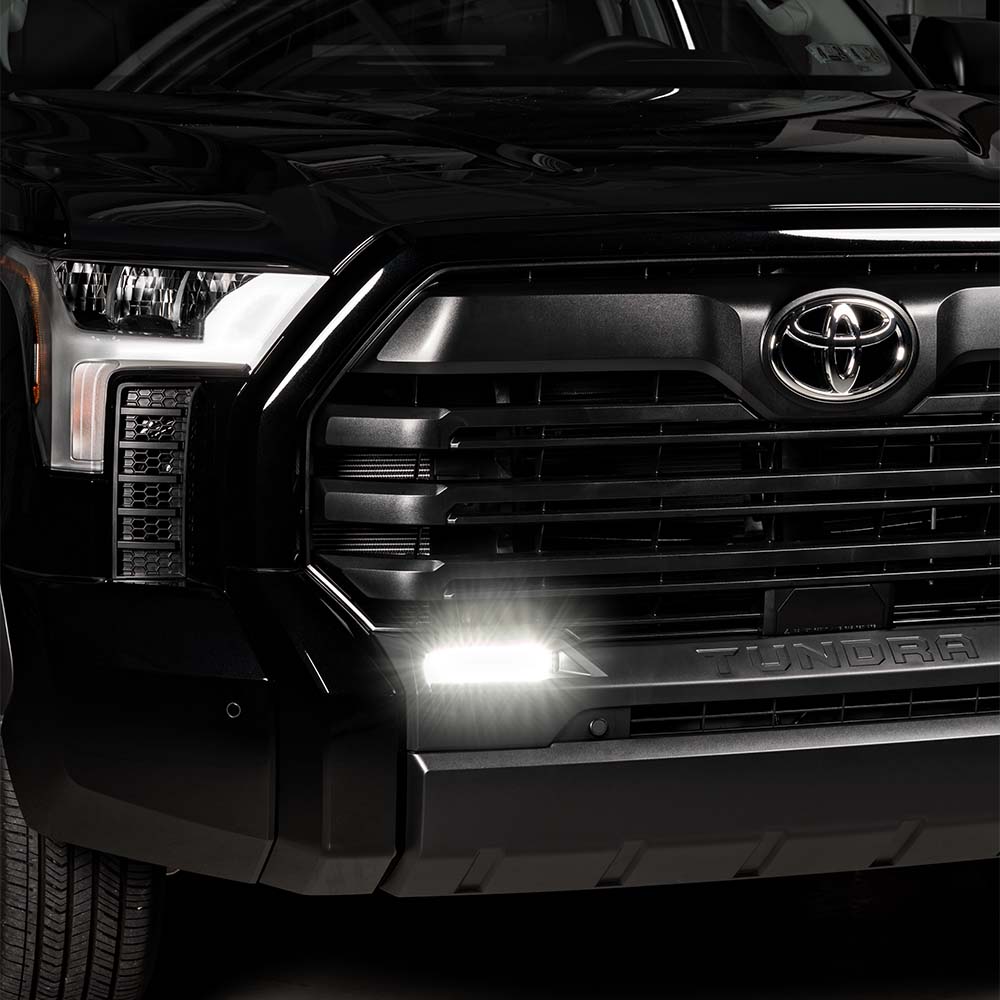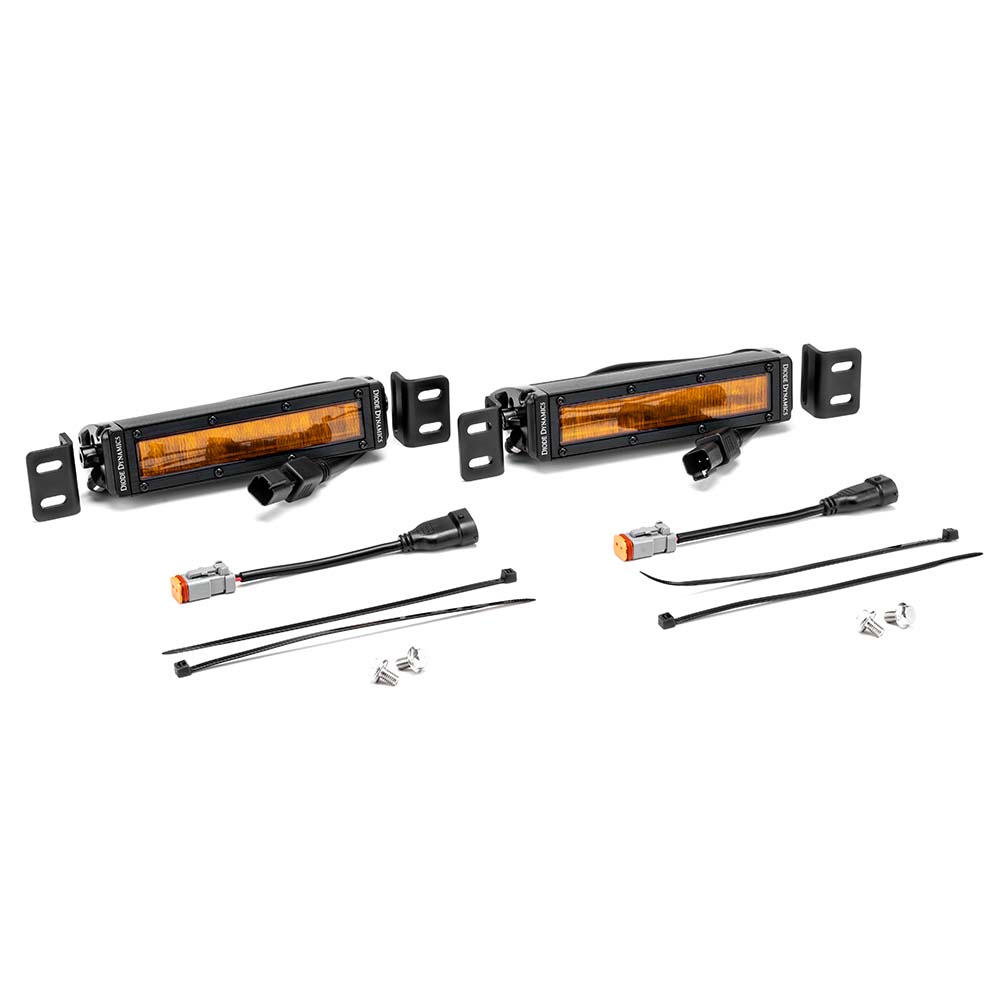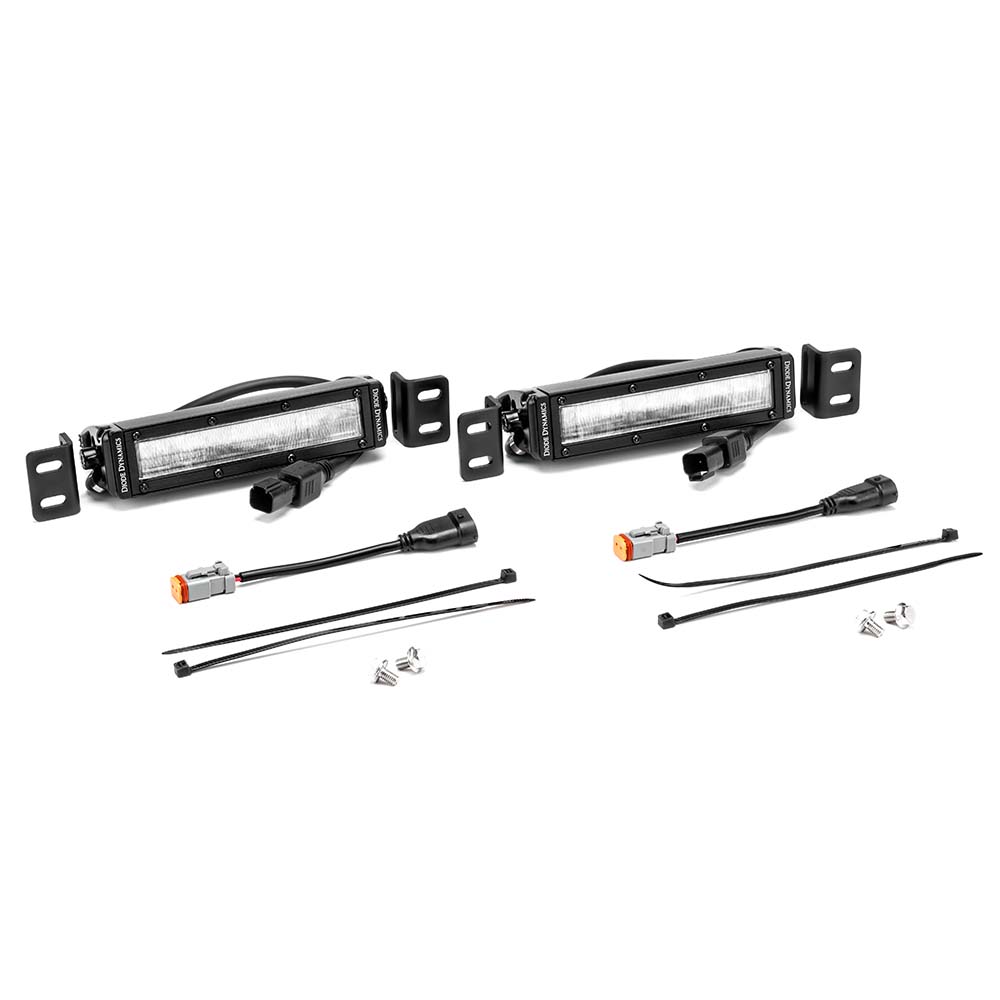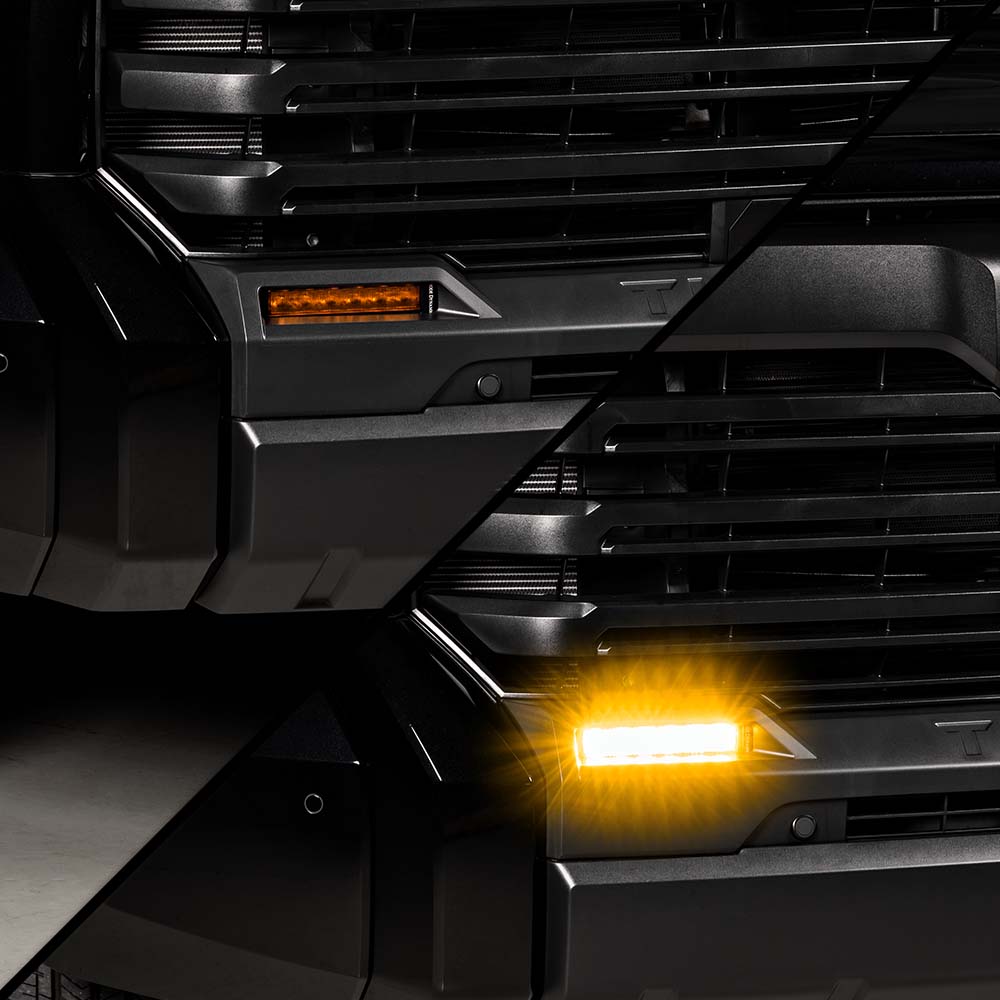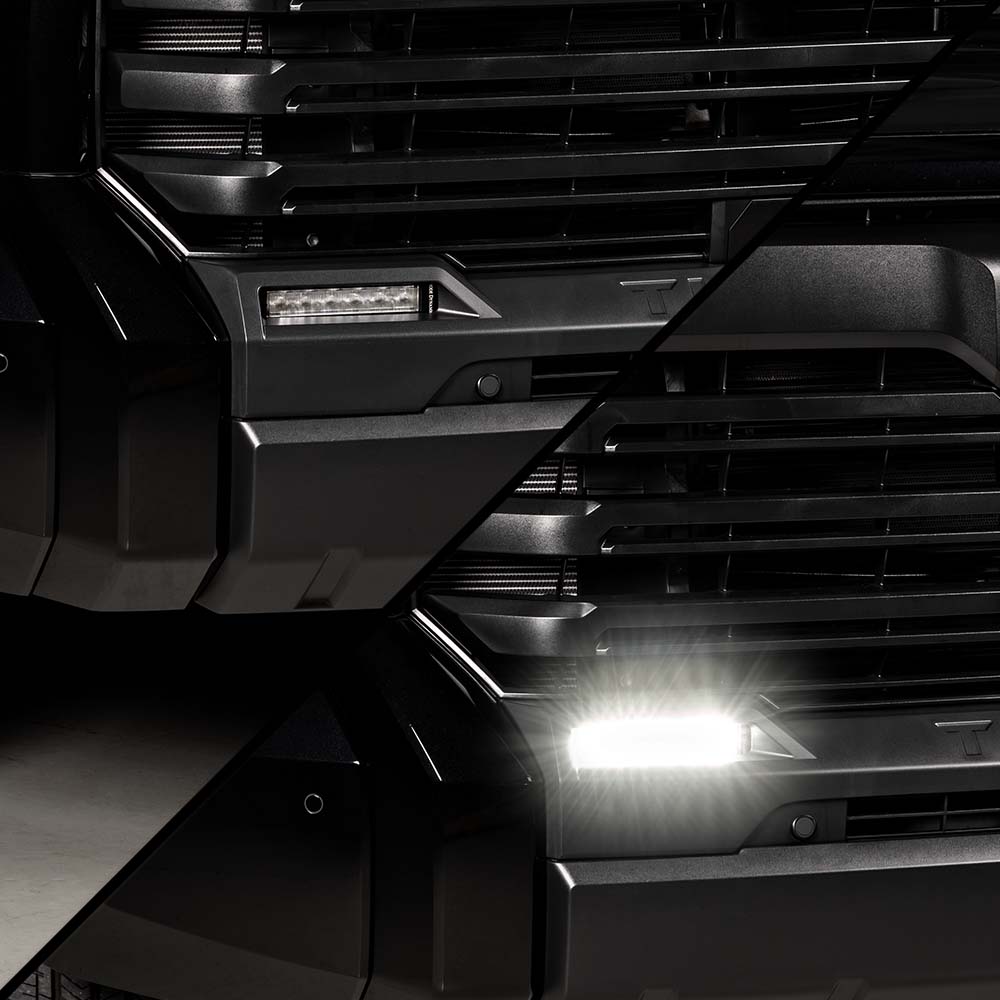 SS6 Fog Light Kit Tundra (2022-2024)
In Stock - 4 available
In Stock - 5 available
Features
Direct fitment on 2022+ Toyota Tundra.
Replaces the factory fog lights with two 6" light bars.
Road legal output as fog lights.
CAD-designed for perfect fitment and OEM-like appearance.
Utilizes existing mounting points for simple installation - no cutting or drilling required.
Overview
Perfect Fitment. The SAE LED Fog Light Kit for the 2022+ Toyota Tundra from Diode Dynamics allows you to mount a pair of SS6 Stage Series 6" Light Bars in place of the factory fog light housings. These application-specific brackets were CAD-designed to install using factory mounting points. No cutting or drilling required!
Street Legal Output. This kit isn't just for off road! It is legal for on-road use as fog lights (Please check your local laws and regulations for aiming, installation, and applicability). Wire adapters are included to connect the lights to your factory fog light connectors - no additional wiring needed!
Designed For Performance. Using optical simulation modeling, Diode Dynamics Stage Series light bars have been designed for maximum functionality, with compact size, custom-engineered TIR optics, and a useful beam pattern, all in a highly durable package. Our light bars shine light in a highly-functional and useful beam pattern, much more focused than older LEDs on the market. Click here to learn more: Total Internal Reflection (TIR) Optics | Stage Series Video.
Functional Patterns. All Stage Series beam pattern options were designed with optical simulation modeling, to shape the output in a highly-functional beam pattern. No matter what your auxiliary lighting needs are, there is a Stage Series optic for you!
The SAE Fog/Wide pattern pattern provides an extremely wide field of view, without wasting any light in the sky above and provides a 100Wx8H degree spread of light. It was designed to supplement your fog lights and is perfect for driving in inclement weather.

White or Amber. The Stage Series light bars included with this kit are available in a cool white or amber color. The white is a 6000K color temperature, which is a true white output, without any blue. The amber is a brilliant deep yellow color, perfect for hazards or high contrast in poor weather.
Experience. After over a decade in business, Diode Dynamics is the most trusted name in automotive LED lighting. Unlike every other LED distributor, we assemble and engineer products ourselves in the United States, for high quality and fast time-to-market of the newest and brightest LED technologies. We pride ourselves in offering only quality LED products, that will exceed your expectations. Please contact us if you'd like to discuss your lighting project!
8 Year Limited Warranty
In addition to our standard 3 Year replacement warranty, this product carries an additional 5 years of protection against manufacturing defect, for a total of 8 years of warranty coverage.